Preds overwhelm Bolts in opening rookie tournament game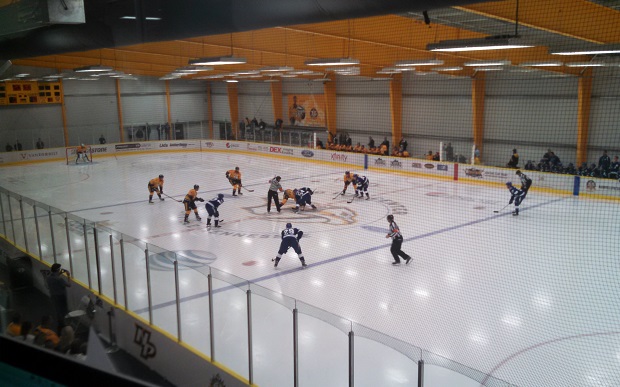 The Nashville Predators wanted to show off the Ford Ice Center this weekend and that's exactly what they did. Not only were fans able to see the beautiful new facility for the first time but they saw the future of the Predators take to the ice.
The Preds beat the Tampa Bay Lightning, 2-1, on Saturday afternoon in front of a capacity standing room only crowd. All sets of bleachers were packed and the fans behind the goal by the rink entrance were four or five deep.
More impressive than the crowd, however, was the talent on display. Despite Tampa boasting superstar Jonathan Drouin (#3 overall in 2013), Nashville clearly had the better lineup as a whole. Their top line featured Filip Forsberg, Colton Sissons and 2014 first round pick Kevin Fiala looked outstanding together.
"I played with Sissons a lot in Milwaukee last year," Forsberg said. "And Kevin is a really really good player. Just try to catch up with his speed and try to get him the puck and he'll get it back to you."
Forsberg took three penalties in the opening contest but made up for it by potting the game winning goal in overtime.
"Getting one penalty is bad but taking two makes you want to get out there and make it up to the team," Forsberg said. "I was lucky that I was able to pay it back to them with a goal at the end."
Fiala scored the opening goal and put the Preds up 1-0 early in the second. Forsberg carried the puck into the zone but blew a tire. As he fell, he still had the presence of mind to hit a breaking Fiala with a pass. The 18-year old Swiss forward evaded his checker and snapped a wrist shot past Andrei Vasilevskiy.
"My plan was to get it to him but I was a little unlucky that I fell," Forsberg said about the pass. "I was lucky that I was still able to get it over to him. He had a really good finish there."
Nashville's second line was impressive as well. Brendan Leipsic (who assisted on Forsberg's OT winner), Miikka Salomaki and Viktor Arvidsson used their speed and puck handling abilities to frequently generate scoring chances in the Tampa end. Vasilevskiy and then , in the second half of the game, Kristers Gudlevskis were the difference makers for the Lightning.
The Lightning did get chances of their own, no question. But goaltenders Magnus Hellberg and Rob Madore played extremely well and held them off the scoreboard sans Brayden Point's wicked wrist shot late in the second period that beat Madore to tie the game.
Both teams are at it again on Sunday. The Predators will skate against the Florida Panthers and the Lightning will face off against the Boston Bruins. Florida won their opening game against Boston yesterday, 2-1.
Boston and Tampa drop the puck at 4:00pm at Ford Ice while Nashville and Florida square off at 7:00pm.
---
Immediately following every rookie tournament game, we will pick a player from each team who made the biggest impression. Our "Impressions of the Game" for Nashville vs. Tampa are as follows:
PREDATORS: Kevin Fiala (goal; far and away one of the best players on the ice for either team)
LIGHTNING: Kristers Gudlevskis (played 31:00, 21 saves, 22 shots; kept Tampa in the game)
---
Nashville 2, Tampa Bay 1
Saturday, September 13, 2014 – Ford Ice Center
Nashville  0 1 0 1 – 2
Tampa Bay 0 1 0 0 – 1
1st Period – No Scoring.
2nd Period – 1. Nashville, Fiala 1 (Forsberg), 13:52 (PP). 2. Tampa Bay, Point 1 (Costello, Richard), 5:05 (PP).
3rd Period – No scoring.
Overtime – 1. Forsberg 1 (Leipsic), 6:05.
Shots on Goal-Nashville 12-3-5-1-21. Tampa Bay 7-14-12-0-33
Power Play Opportunities-Nashville 1/11. Tampa Bay 1/11
Goalies-Nashville, Hellberg 0-0-0 (11 shots, 11 saves), Madore 1-0-0 (22 shots, 21 saves). Tampa Bay, Andrei Vasilevskiy 0-0-0 (12 shots, 11 saves), Kristers Gudlevskis 0-1-0 (8 shots, 7 saves).
---
PHOTO CREDIT: Jeremy K. Gover // section303.com