No CHL for Preds prospect Kamenev as KHL starts season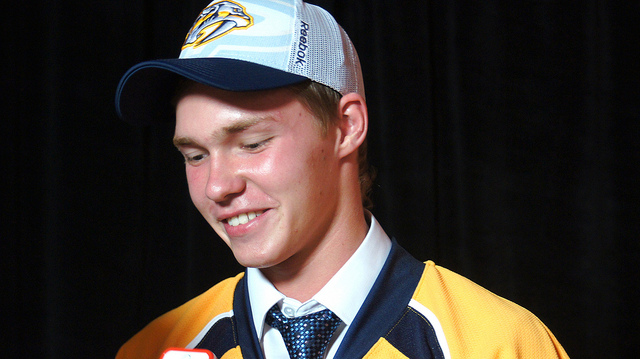 According to Mario Morissette of Le Journal de Québec, a french newspaper in Quebec City, the Nashville Predators will be without 2014 second round pick Vladislav Kamenev for rookie camp and training camp.
Kamenev was selected second overall by the Quebec Remparts in the CHL Import Draft back in July but has been unable to get out of his KHL contract. His club, Metallurg Magnitogorsk, began their 2014-15 season yesterday and, therefore, won't make one of their players available without being forced to do so.
A source has confirmed to 303 that Quebec is still trying to bring the Preds prospect over.
Kamenev was held without a point in the 6-1 victory but logged a tick under eight minutes of ice time, was 50% in the face-off dot and picked up a minor penalty.
There was little to no chance Kamenev would've cracked Nashville's NHL lineup but it would have been nice for the organization to evaluate him in action during the rookie tournament at Ford Ice Center. The Boston Bruins, Florida Panthers and Tampa Bay Lightning are all participating with the Preds and Kamenev could have benefited from playing with future teammates and against future opponents.
While there's still a shred of hope an agreement can be made, playing for the Remparts of the QMJHL would have helped his development in many ways, especially adapting to North American sized ice.
---
PHOTO CREDIT: Sarah Fuqua (used with permission)
About Jeremy K. Gover
Jeremy grew up in the Bay Area cheering for the Sharks since their inception. He moved to Nashville in September of 2005 and became a season ticket holder a day later. Thankfully, he no longer bleeds teal. You can e-mail Jeremy at [email protected]
Upcoming Schedule
Florida at Nashville

September 26, 2022 at 3:00 pm – 6:00 pm

Florida at Nashville

September 26, 2022 at 7:00 pm – 10:00 pm

Nashville at Tampa Bay

September 29, 2022 at 6:00 pm – 9:00 pm

Tampa Bay at Nashville

September 30, 2022 at 5:00 pm – 8:00 pm

San Jose at Nashville

October 7, 2022 at 1:00 pm – 4:00 pm

Nashville at San Jose

October 8, 2022 at 1:00 pm – 4:00 pm

Dallas at Nashville

October 13, 2022 at 7:30 pm – 10:30 pm

ESP+

Nashville at Dallas

October 15, 2022 at 7:00 pm – 10:00 pm

BSSW

Los Angeles at Nashville

October 18, 2022 at 8:30 pm – 11:30 pm

ESP+, ESPN

Nashville at Columbus

October 20, 2022 at 6:00 pm – 9:00 pm