Preds post third straight win behind Rinne's 40 saves…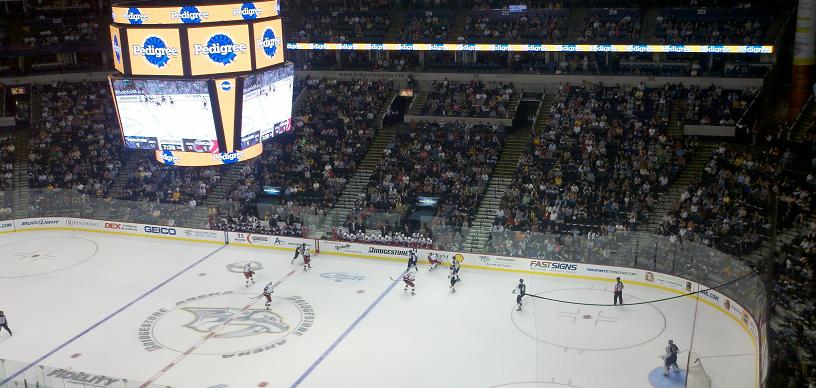 It was the most rubber he's seen all season, and he stopped all but one.
Pekka Rinne turned aside 40 Anaheim Ducks shots to backstop the Nashville Predators to a 4-1 victory in front of 12,216 at Honda Center.
The Predators got goals from Jerred Smithson, Patric Hornqvist, Sergei Kostitsyn and Shea Weber.
Early in the contest, it was the Preds who struck first but only one guy knew about it. Smithson drove hard to the net and put a puck under goaltender Jonas Hiller, who appeared to make the save. Smithson then threw his arms up to celebrate and everyone from the referee to his teammates looked at him like he was crazy. After a lengthy review, however, it was determined that the puck slid in along the near post, putting Nashville up 1-0.
In the middle frame, Kostitsyn found Hornqvist planted directly in front of Hiller and hit him with a pass that required him only to have his stick on the ice. With his stick tied up, however, he was able to deflect the puck off his skate and in, giving Nashville the 2-0 lead.
The Ducks emptied their net with roughly a minute and half remaining and, just like the game against the Minnesota Wild last week, two players cashed in. Kostitsyn and Weber padded their stats and put the game away.
The Preds travel a few miles (and a couple hours drive) north to play the Los Angeles Kings tomorrow night. Puck drops at 9:30pm Central and can be seen on Fox Sports Tennessee.
LEFTOVER THOUGHTS:
* Ryan Suter finished with an impressive plus-4 rating.
* Weber, who was a minus-10 on the season after the Columbus game on December 1, is now a plus-1. He was a plus-3 tonight.
* This is the third straight game that has finished with a score that read "4-1, Predators."
* The last time Rinne had 40 saves in a game was March 16, 2010 when he turned aside 42 in a 4-3 win over the Philadelphia Flyers.
* Special thanks to Willy Daunic and 102.9 the Buzz for having me as a special guest on the post game show tonight. If you've known me for any length of time, you know it's a dream come true.