Preds prospect Ellis named CHL's top player, defenseman…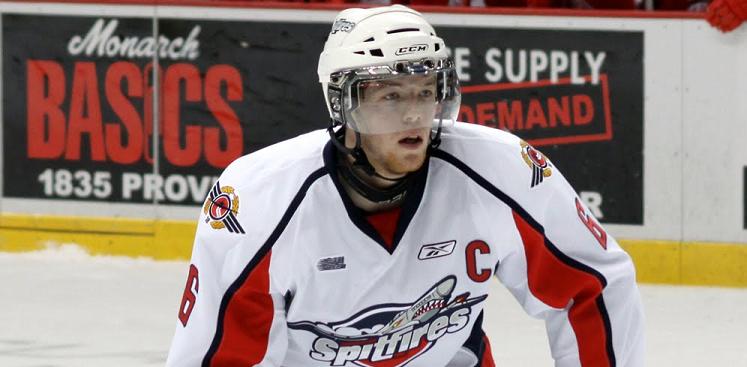 In winning his latest awards, Nashville Predators prospect Ryan Ellis became the first player since former Quebec Nordiques first round pick Bryan Fogarty to do so.
The 2009 first round pick is the first player to win both the CHL's Defenceman of the Year and the CHL's Player of the Year honors in the same season since 1989.
In his career already, the 20-year old Ellis has the following awards in his trophy case: the 2008 Bobby Smith Trophy (the OHL Scholastic Player of the Year), the 2009 Max Kaminsky Trophy (OHL Defenceman of the Year), the 2011 Red Tilson Award (OHL's most outstanding player), two Wayne Gretzky Trophies (the OHL's West Conference Championship), two J. Ross Robertson Cups (the OHL Championship), two Memorial Cups (the CHL Championship), a gold medal at the 2009 World Junior Championships, two silver medals from the World Juniors (2010, 2011), a gold medal at the 2008 Ivan Hlinka Memorial Tournament, a gold medal at the 2008 Under-18 World Championships and a gold medal at the 2008 Under-17 World Hockey Challenge.
And then there's the records he holds. His 313 career points is second most in Windsor Spitfires history and most by a defenseman in franchise history, he is the all-time leading scorer in World Juniors history (25 points) and is the Canadian National Junior Team's all-time assist leader (20).
Ellis has achieved all of those accolades in the past four years and now he adds two more. Probably two of the highest individual honors he can earn. Most of his non-team accolades are from the OHL. The two he won today are CHL awards, encompassing the Western Hockey League, the Ontario Hockey League and the Quebec Major Junior Hockey League.
In short, Ryan Ellis was the best of the best. Of the best.
He turned pro after Windsor was eliminated by the Owen Sound Attack in the second round of the OHL playoffs and wound up playing seven games in a Milwaukee Admirals sweater, tallying a goal and an assist.
While it's expected that he start the 2011-12 campaign in the AHL, don't be surprised if he dons a Predators jersey at some point next season. He will be a power play quarterback for years to come. His main obstacle, at this point of his career, is handling the much bigger and much stronger pro forwards. For a guy who's 5'10" and 170 pounds, the pro game could be quite an adjustment. If he can show that he can handle himself (a la the recently retired Brian Rafalski) he'll make the jump to the NHL quickly and become a main stay in no time.
—
CLICK HERE TO SEE AN INCREDIBLE RYAN ELLIS TRIBUTE VIDEO BY THE ONTARIO HOCKEY LEAGUE
—
PHOTO CREDIT: Tim Cornett // windsorspitfires.com (used with permission)