Preds prospect Ryan Ellis named Mickey Renaud Captain's Award winner…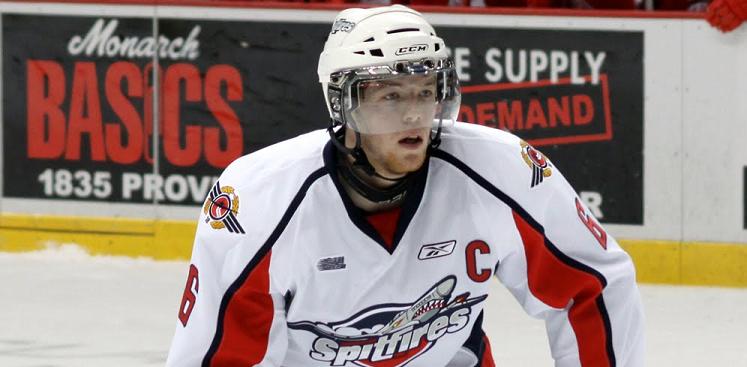 Another week, another award for Nashville Predators defensive prospect Ryan Ellis.
On a side note, fellow Preds prospect Michael Latta was also up for the award.
The official Ontatio Hockey League press release is below.
—
Ryan Ellis Awarded Mickey Renaud Captain's Trophy
For Immediate Release
Monday June 6, 2011
Toronto, ON – The Ontario Hockey League today announced that Ryan Ellis of the Windsor Spitfires is the 2010-11 recipient of the Mickey Renaud Captain's Trophy.
"It is always exciting to win personal awards but to receive one that recognizes your leadership is extra special for me," said Ellis.  "Being able to learn from Mickey in my first year helped a lot, he always made everyone feel part of the team.  This year I tried to do the same by making everyone feel comfortable and we were like a family in Windsor and I think it contributed to our success."
Ellis was chosen by a selection committee as the OHL team captain that best exemplifies leadership on and off the ice, with a passion and dedication to the game of hockey and his community that Mickey demonstrated.  Nomination forms were submitted by all 20 OHL General Managers on behalf of their individual team captains.
The selection committee consisted of a media panel of four, representing each of the four OHL divisions. 
"As an organization we are extremely proud for Ryan to be acknowledged with this award," Windsor Spitfires Vice-President and General Manager Warren Rychel said.  "It has been an unbelievable number of awards and accomplishments this season and in his four year career as a Spitfire.  This is a significant honour because it is named after our 'Captain Forever' Mickey Renaud.  Ryan, like Mickey, has shown great leadership on and off the ice.  To win the Mickey Renaud Captain's Award tops off one of the greatest careers in junior hockey."
A 20-year-old from Freelton, ON, Ellis served as captain of the Spitfires in his fourth season with the club where he set career-high numbers in goals with 24, assists with 77, and points with 101.  This season Ellis also served as captain of Team OHL in the SUBWAY Super Series, and Captain of Canada's National Junior Team at the 2011 IIHF World Junior Championship in Buffalo, NY. 
"In my years as coach of the Spitfires, Ryan has exemplified all the qualities of a great leader and captain," said Spitfires President Bob Boughner. "Ryan was lucky enough to experience the leadership that Mickey brought to the game.  Witnessing his passion and determination has helped him become a leader in his own right while carrying on the tradition of our franchise.  I'm sure Mickey's family will be truly thrilled that this honour has been awarded to one of his teammates."
Ellis is the third ever recipient of this award following John Kurtz of the Sudbury Wolves who received the award last season, and Chris Terry of the Plymouth Whalers who was the inaugural winner in 2009.  Ellis is also the last remaining Spitfire to have played with Renaud when they were teammates in 2007-08.
"On behalf of our family, Jane and I are so very pleased that this year's recipient of the Mickey Renaud Captain's Award is Windsor Spitfire Captain Ryan Ellis," said Mark Renaud.  "It has been our great pleasure to have been able to watch Ryan play his tremendous career in Windsor and we look forward to watching him go on to great success in the National Hockey League.  We are especially gratified that Ryan knew Mickey as a teammate and friend, and that he will carry Mickey's memory with him throughout his NHL career.  Ryan's dedication to the Windsor Spitfires organization and the Ontario Hockey League will forever be appreciated."
The Mickey Renaud Captain's Trophy is one of three major awards that will be formally presented to Ellis at the OHL Awards Ceremony this Wednesday June 8 at the Hockey Hall of Fame in Toronto.  He will also be receiving the Max Kaminsky Trophy awarded to the OHL's Most Outstanding Defenceman, and the Red Tilson Trophy as the OHL's Most Outstanding Player of the Year.
2010-11 Mickey Renaud Captain's Trophy Nominees:
Barrie – Colin Behenna
Belleville – Luke Judson*
Brampton – Stephon Thorne
Erie – Greg McKegg
Guelph – Michael Latta
Kingston – Taylor Doherty
Kitchener – Gabriel Landeskog
London – Stephen Sanza
Mississauga – Casey Cizikas
Niagara – Andrew Agozzino*
Oshawa – Calvin de Haan
Ottawa – Thomas Nesbitt
Owen Sound – Garrett Wilson
Peterborough – Jack Walchessen
Plymouth – Beau Schmitz
Saginaw – Jordan Szwarz
Sarnia – Nathan Chiarlitti*
Sault Ste. Marie – Brock Beukeboom
Sudbury – Marcus Foligno
Windsor – Ryan Ellis
 
*also nominated in 2009-10