Preds prospect Watson traded from Peterborough to London…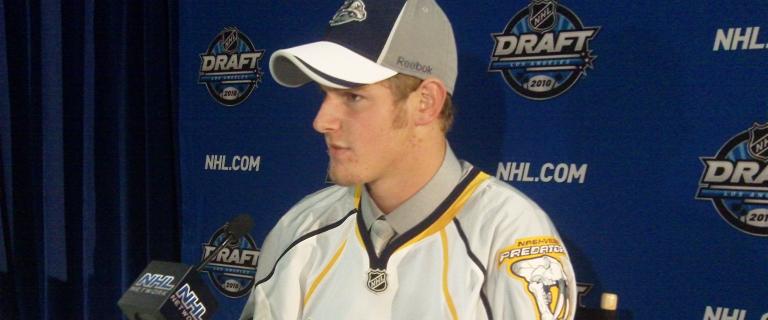 The Peterborough Pete's are just 19-15-3-3. The London Knights are an Ontario Hockey League best 30-8-0-1.
In short, Nashville Predators prospect Austin Watson just went from a bubble team to a league powerhouse.
According to Norman James of CTV London Sports, Watson was traded to the Knights this morning in exchange for rookie forward Chase Hatcher, two second round picks (2014 and 2016) and a conditional pick in 2018.
Peterborough also sent a 2016 fourth rounder to London.
The #18 overall pick in the 2010 NHL Entry Draft had 33 points in 32 games with the Petes and had an impressive nine points in five games for an underachieving Team USA squad at the 2012 World Junior tournament. At 6'3″, 187 pounds, Watson is projected to be a huge power forward once he fills out, adds muscle and cracks the National Hockey League. While that may be a couple years out, the future looks bright as far as the Predators and Watson are concerned.
Watson's departure was rumored before the World Juniors took place. After he went to Team USA's camp in mid-December, there were reports that, upon his return to his junior squad, he could have a new home. And now he does. Peterborough hasn't exactly been a great team the past couple years and they wanted to rebuild for the future. A team like London is trying to bulk up for a deep post season run. The two clubs got exactly what they wanted.
London had already traded for Erie Otters captain — and 49 goal scorer (2010-11 season) — Greg McKegg on January 5. The addition of Watson gives them even more fire power.
This will be a real opportunity for Watson. He's now on a true contender with a real chance to go to the Memorial Cup. Will he show that his point-per-game production in Peterborough was actually under-achieving like most think? It will be interesting to see how this blue chip prospect responds after going from a bubble team to a powerhouse.
Watson is already a Memorial Cup Champion. He hoisted the ultra-exclusive trophy as a teammate of fellow Preds first round pick Ryan Ellis while the two played with the Windsor Spitfires in 2010. Can he collect another Cup with London?
—
SPECIAL THANKS to Neate Sager of Yahoo.ca's Buzzing the Net for additional info on the story.
—
PHOTO CREDIT: Jeremy K. Gover // section303.com