Preds prospects in Cincinnati are lockout victims too…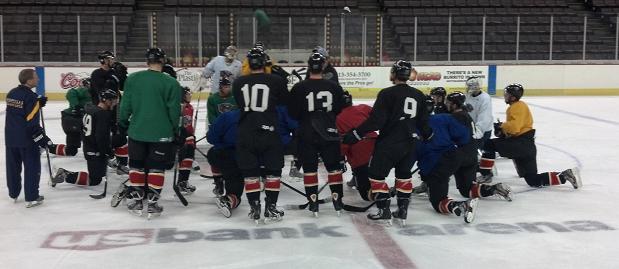 Cincinnati, OH (October 13, 2012) — Despite the 100+ players who are able to play in leagues overseas, the NHL lockout has a laundry list of victims. The fans being first and foremost, of course. But also on that list (in no particular order) are league sponsors, local businesses, non-elite North American players, the NHL Network, prospects and even first and second year pro's.
The Nashville Predators have three perfect examples of the latter. Their 2011 fourth round pick Josh Shalla, 2009 second rounder Charles-Olivier Roussel and 2010 selection Taylor Aronson are all starting the season with the Cincinnati Cyclones, the ECHL affiliate of the Predators. Nothing against the Cyclones or the city of Cincinnati but, let's face it, two steps away from the NHL is not where they want to be.
"There are some things you can't control, the lockout being one." Shalla said. "I've got to make the best of what I can control. I've got to come down here, hopefully do well, show them what I can do and hopefully get called up sooner rather than later."
The Whitby, Ontario native fills a need for the Nashville organization. He's a goal scorer. General Manager David Poile chose the left wing 94th overall two summers ago because of his impressive 47-goal, 72-point campaign with the Saginaw Spirit of the OHL. He then followed up that effort with a 40-goal, 76-point season despite playing in 15 less games. Nashville may call on his goal scoring touch in the not-too-distant future but first he's got to dominate the ECHL competition to earn a call up.
The blueline is where the real dominoes have fallen for Nashville and Milwaukee. Guys like Ryan Ellis and Jon Blum were slated to start the season in Music City but, instead, are with the AHL affiliate. In essence, they've taken away two slots from guys who should be there.
Enter Roussel and Aronson.
Roussel will begin his first professional season of hockey in a place he never thought he would when he was drafted 42nd overall: the ECHL.
"The lockout is bad for everybody so I'm just here and I'm going to try to do my best day in and day out," the former Saint John Sea Dog said. "There's a lot of stuff I can't control with that situation so I'm going to make sure that, what I can control, I make the most of."
His teammate, Aronson, is familiar with Cincinnati as he spent the end of last season there. With an Admirals club that boasted veterans like Scott Ford, Tyler Sloan and Teemu Laakso as well as prospects Roman Josi, Vic Bartley and (at different times) Blum and Ellis, the pairings were maxed out, thereby pushing Aronson to Cincinnati where he could get playing time. So how, as a former third round draft pick, do you stay positive being so far away from the NHL?
"Last year was definitely a learning season," Aronson said. "But it's basically a mindset. You've got to realize that you're here so you've got to work extra hard to get back up. I just have to work harder and get back up to Milwaukee."
The team they should be a part of, the Admirals, won their season opener last night. The three prospects will try to do the same with Cincinnati tonight.
"For now, we're Cyclones and we're going to try to win games. Then we'll go with the flow," Roussel said.
You can listen to the game HERE starting at 7:30pm Central.
—
SPECIAL THANKS to Nick Brunker and the Cincinnati Cyclones
—
PHOTO CREDIT: Jeremy K. Gover // section303.com