Preds send Lindback and Kyle Wilson to Lightning for much needed picks…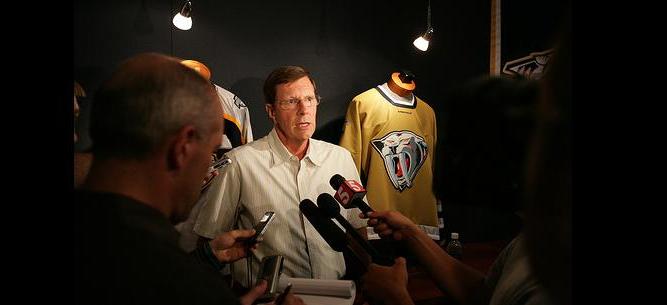 As first reported by Kevin Allen of USA Today, and having since been confirmed by the team, the Nashville Predators have swung a deal with the Tampa Bay Lightning.
Nashville General Manager David Poile sent back-up goaltender Anders Lindback, Milwaukee Admirals forward Kyle Wilson and a seventh round pick in next week's NHL Draft to Tampa Bay for two second round picks, a third round pick in 2013 and journeyman netminder Sébastien Caron.
This can only be seen as a great move by both clubs. Lindback deserves a shot as an NHL #1 but was buried under Pekka Rinne's seven year deal, Tampa needed a goaltender who can at least challenge for the starting job and Nashville wasn't set to make a choice until the third round in this years draft and now they have two second rounders.
Caron, 31, was a consistent back-up for the Pittsburgh Penguins from 2002 through 2006 before bouncing around in several leagues, including overseas. It's unclear whether the Predators are truly interested in his services as a backup to Rinne or if he was included by Tampa Bay for other reasons. He is set to become an unrestricted free agent on July 1 so Nashville has exclusive negotiating rights until then and could sign him at an affordable rate if they felt he was in the plans.
The goaltending depth in the Nashville system didn't just change with the trade either. The Gothenberg Post, a Swedish news outlet, reported early this morning that 2011 second round pick Magnus Hellberg will, in fact, be playing in North America next season.
Hellberg should start with the AHL affiliate Milwaukee Admirals while the Preds look for a veteran to back-up their back-to-back Vezina Trophy finalist.
—
RELATED READING: