Preds shutout in St. Louis, drop fourth straight…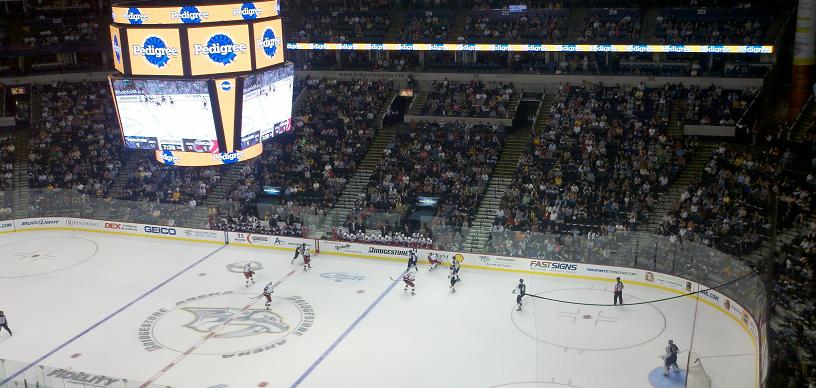 The Nashville Predators were without two of their top three scorers tonight. And the guy that was in the lineup (Cal O'Reilly) hasn't scored since December 8.
So, really, they were without their top three scorers. (Sorry, Cal.)
Steve Sullivan and Martin Erat were still nursing injuries when Nashville lost to the St. Louis Blues, 2-0 in front of 19,150 at Scottrade Center on Sunday night.
Goaltender Pekka Rinne, trying to recapture his winning ways after an injury had him on the shelf for 22 days, stopped 24 of 25 shots in the loss.
David Backes scored twice for St. Louis and Jaroslav Halak made 32 saves for the shutout.
The Preds have now scored one goal or less in four straight games. Now, Rinne and Anders Lindback have played great but Nashville can't expect them to play thatgreat. I know Sullivan, Erat, Legwand and Lombardi are all out but the rest of the guys, given increased opportunity through increased ice time, need to pick up the slack. Do I expect Marcel Goc, Joel Ward and Nick Spaling to score a couple goals a game? No. But certainly O'Reilly, Colin Wilson and Patric Hornqvist need to pull their weight offensively. All three of those guys – especially Hornqvist who was last year's leading goal scorer for the Predators – have more than enough potential to average a point-per-game for an extended stretch.
And, yes, I know when your linemates are out of the lineup things get out of sync but, let's be honest, Nashville isn't exactly known for keeping their lines together for more than a period anyway. So while several guys have had the privilege of skating with the same linemates for most of the season, everyone in the lineup should be very used to different linemates each and every night. But, even if they're not, special players should step up and prove that they are, in fact, special. Scoring goals when star players are out of the lineup is just one way to do that.
It's stretches like this that fuel the fanbase's fire for a goal scorer. It's been a need for the Preds since Alexander Radulov defected to Russia back in the summer of 2008 but, at times, has been quelled by the whole scoring-by-committee thing. Some have suggested General Manager David Poile should package a few defensive prospects to get a sniper and, quite frankly, that might happen closer to the deadline but to expect it this early in the season would be a reach.
Bottom line is Rinne and Lindback have done their part, now it's time for the players in front of them to give them some support.
The Predators will try to score more than one goal on Tuesday at Bridgestone Arena. The Dallas Stars are in town for Nashville's first home game since the Christmas break.
LEFTOVER THOUGHTS:
* Along with Sullivan and Erat, David Legwand (lower-body) and Matthew Lombardi (concussion) were also out of the lineup tonight. The Tennessean's Josh Cooper is reporting that Legwand is looking to return on Tuesday while there is still no update on Lombardi's condition. We obviously wish him a quick and safe recovery.
* The St. Louis PA Announcer mistakenly announced that Klasen was a healthy scratch. He meant to say Alexander Sulzer.
* Klasen wasted no time setting a new career mark. He registered the first shot of the game and, in turn, registered a new career high in shots. With one.
* Klasen also logged 16:21 of ice time, another new career high.
* Rinne's last win was December 1.
* Nashville's last win was December 17.
* Wade Belak played in his seventh game of the year tonight. He has yet to spend even a single second in the penalty box this season. His last visit to the sin bin came on April 1, 2010.
* From October 30 to November 11, O'Reilly tallied at least a point in five straight. From November 13 through November 27, however, he had only one point in eight games. Then he rebounded to go on another five-game scoring streak. Like clock-work, O'Reilly is now scoreless in eight straight once again. Look for him to start another streak on Tuesday night.
* There were no penalties – for either team – through the first 54:47 of action. Ward then took a tripping penalty, all but putting the final nail in the Preds' coffin.
* Halak has allowed just eight goals in his five games against the Predators this season, going 3-1-1.
* If you're looking for good Predators news, you may have to go all the way to the 2011 World Junior Championships going on right now in Buffalo, New York. Prospects Ryan Ellis (one goal for Canada) and Patrick Cehlin (two goals, one assist for Sweden) were each named Players of the Game for their teams in today's action.
* Last but not least: happy Boxing Day to all of our great Canadian neighbors!
THREE STARS OF THE GAME:
1) Jaroslav Halak (STL)
2) David Backes (STL)
3) Pekka Rinne (NSH)