Preds sign first round pick Kevin Fiala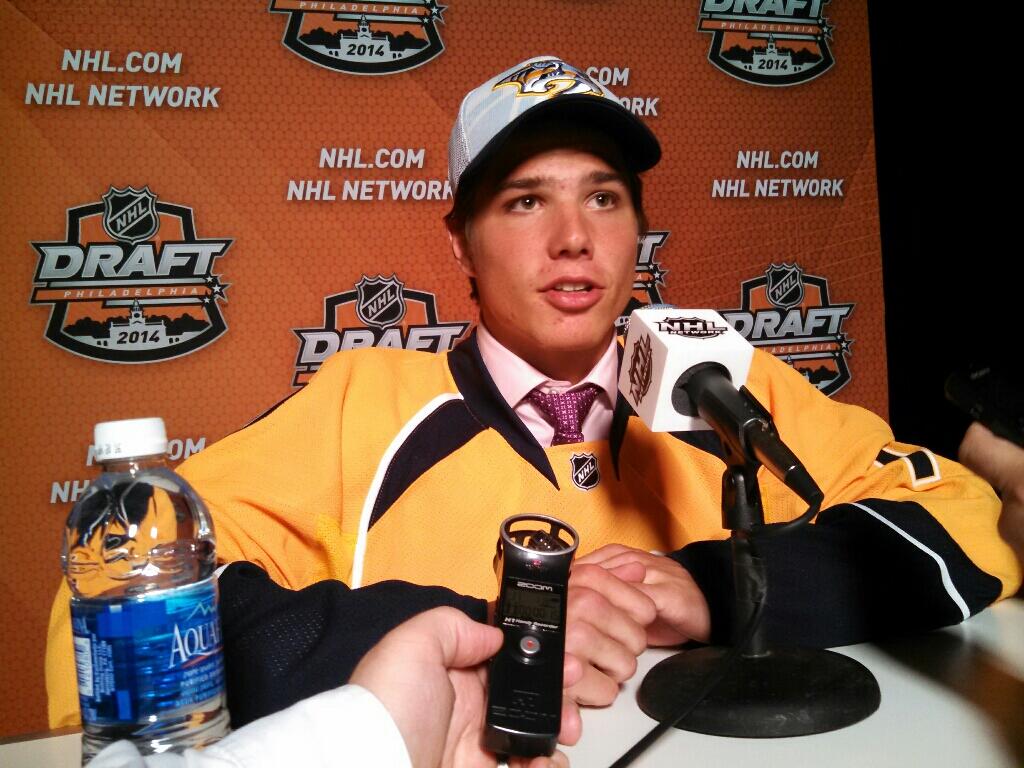 First it was veteran center Mike Ribeiro. Then free agent Derek Roy. Later it was fourth round pick Viktor Arvidsson. Now it's first rounder Kevin Fiala.
It's been a busy day for General Manager David Poile and the Nashville Predators.
After a strong showing in development camp, the Preds hooked their most recent top pick with a three-year entry-level deal that, hopefully, will persuade him to play in North America this season.
The St. Gallen, Switzerland native played in Sweden last year and really impressed.
"I think it was the perfect decision to move to Sweden and play there because I wasn't very big and I thought I could improve on my dream if I moved there," he said moments after being drafted. "Everyone believed in me and I played on the A-team right after the U20 World Championship and I'm pretty happy with how my season went."
Assuming he plays on this side of the Atlantic, could Fiala actually play with the big club?
"I've heard some people say 'Kevin Fiala may be able to make your team this year,'" Poile told us at the draft. "That would be pretty special if he can do that. I always say the same thing: 'I don't want you to play a game, I want you to have a career.' We'll just try to do the right thing."
The 17-year old is staying humble and realistic about his chances in suiting up for the big club, however.
"My goal is NHL this year but I don't know yet," he said. "I'm going to give 100 percent and we'll see what happens. It's part of what you have to accept. If they want me to play in the NHL this year, I'll be very happy and it's going to be very exciting to play in the NHL but, if not, life goes on. You have to keep going and working hard. Your time will come."
Fiala becomes the fourth signing of the day and the second 2014 draft pick.
This past May, Fiala became the first player in more than a decade to play in all three World Championship tournaments in the same year (under-18 World Juniors, the under-20 World Juniors and the Men's World Championships).
The official press release is below.
---
Nashville, Tennessee (July 15, 2014) – Nashville Predators President of Hockey Operations/General Manager David Poile announced today that the club has signed 2014 first-round selection (11th overall) Kevin Fiala to a three-year entry-level contract.
Fiala, 17 (7/22/96), was a finalist for the 2014 Swedish Hockey League Rookie of the Year Award after tying for the lead in points among all under-18 SHL players with 11 (3g-8a) in 17 games for HV71. The 5-10, 180-pound winger started the 2013-14 season with the HV71 junior squad, ranking among the league leaders in goals (10), assists (15) and points (25) in 27 games before his January promotion. The dynamic offensive forward with game-breaking potential spent his first season in Sweden in 2012-13 with the Malmo organization, posting 10 points (6g-4a) in nine games at the under-18 level and 28 points (9g-19a) in 33 games at the junior level.
A native of St. Gallen, Switzerland, Fiala represented his homeland at the World Junior Championship, Under-18 World Championship and World Championship in 2014, becoming just the third player ever to participate in all three tournaments in the same year (Andrei Kostitsyn and Vadim Karagan, Belarus in 2003). Fiala led the Swiss in points at both the under-18 tournament (4g-5a-9pts, 5gp), was named one of the nation's three best players in the process, and World Juniors (1g-4a-5pts, 5gp) as the team's youngest member. At 17, he was the youngest member of Switzerland's entry at the World Championship by three years, posting three assists and a team-best +3 rating playing alongside Predators defenseman Roman Josi and forward Simon Moser.
He speaks five languages – Czech, English, French, German and Swedish – and is on Twitter @KevinFiala22.
---
PHOTO CREDIT: Jeremy K. Gover // section303.com