Preds survive late Avs push, keep Central hopes alive…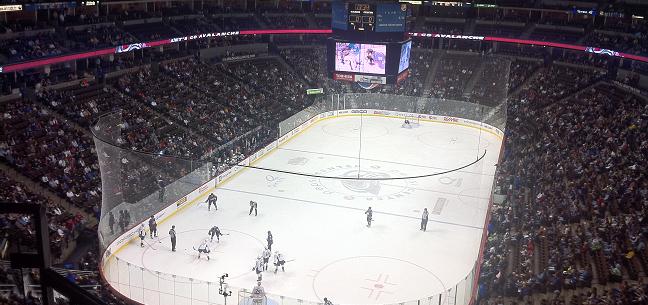 Remember two nights ago, against the Vancouver Canucks, when the Nashville Predators only registered two shots on goal during the final period and lost? Well, deja vu on Thursday. Except this time, it was four shots and they hung on to win.
The Predators used goals from Colin Wilson, Jordin Tootoo and Martin Erat to skate by the Colorado Avalanche, 3-2. They jumped out to a 3-0 lead but then, after taking their foot off the gas, allowed the home team to get back in it with two third period goals.
Goaltender Pekka Rinne was forced to make 15 saves in the final period (and 27 overall) in order to preserve the win. He improved his record to 31-21-8 while the Predators now stand at 42-26-10 on the year.
Nashville will finish the night in 6th place in the ultra-competitive Western Conference. The 5th place Los Angeles Kings lost to the President Trophy winning Vancouver Canucks, 3-1 and the 9th place Dallas Stars (who need every point they can get from this point on) were downed by the Pacific Division leading San Jose Sharks, 6-0.
At the end of the first period, the Predators finally opened the scoring. After Blake Geoffrion got Matt Halischuk the puck behind the net, Halischuk made a nice blind, backhand pass out front to Wilson who roofed it past Colorado netminder Brian Elliott for the 1-0 lead.
In the middle frame, Preds defenseman Cody Franson wristed a shot through traffic from the point. It was tipped in front by Tootoo to put the visitors up 2-0.
Erat got the all-important third goal for Nashville on a nice move where he chipped the puck past defenseman Ryan O'Byrne, collected it on the other side and roofed it over Elliott's glove hand. It was also Erat's 400th career point as a Nashville Predator, joining only David Legwand as the only players in franchise history with 400 career points.
Paul Stastny and David Jones would score two goals in the final 7:00 of regulation to make things interesting but the Preds hung on to get the two points.
Nashville will now keep their small hopes of winning the Central Division alive when they faceoff against the Detroit Red Wings on Saturday afternoon. The Wings will have had three days to sit and stew over the St. Louis Blues hanging a 10-spot on them — in their own building, mind you — on Wednesday night. They'll be plenty angry and looking to bounce back so the Preds must bring their best effort if A) they want to win the game and B) if they want to possibly win the division for the first time in franchise history. There are only four games left, only four points seperates the two teams and Saturday's game puts them against one another.
Wouldn't a Central Division banner hanging from the Bridgestone Arena rafters look amazing?
Puck drops at the special matinee time of 2:00pm Central. So mark your calendars now so you won't be like Justin Bradford and forget. *wink*
LEFOTVER THOUGHTS:
* Rinne has started 25 of Nashville's last 26 games.
* Nashville secured an incredible 22 of 30 possible points in the month of March. (thanks to JR Lind for that stat.)
* JP Dumont was the healthy scratch.
* During a brief 5-on-3 power play in the second frame, Shea Weber wound up and blasted a shot off of Erat's foot. Erat hobbled to the bench but would later return to score the eventual game-winner.
* The only penalty the Preds took all game was after the final whistle. Legwand was assessed 2:00 for roughing.
* With his assist on Erat's game-winning goal, Sergei Kostitsyn extended his point scoring streak to eight games.
* With his assist on Erat's game-winner, Mike Fisher now has four points in his last three games.
* Erat collected 15 points in the month of March. It took him two and a half months to get 15 points earlier this season.
* That was Rinne's 93rd career win.
* The Nashville franchise record for least amount of goals allowed in a season is 200. They've allowed 184 so far this year with only four games to go.
* Wrap your head around this: Nashville has just six shots on goal in the final two third periods combined. That kind of effort will NOT win playoff games.
THE THREE STARS OF THE GAME:
1) Martin Erat (NSH)
2) Paul Stastny (COL)
3) Pekka Rinne (NSH)
—
PHOTO CREDIT: Tapeleg // Jerseys and Hockey Love (used with permission)