Preds topple Ducks, show this ain't last year's team…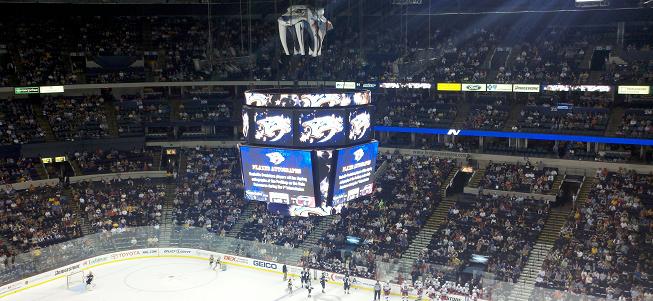 Last night they got killed by the Detroit Red Wings.
Tonight, they got killed by the Nashville Predators.
The talented roster of the Anaheim Ducks came into Music City and got outplayed. With the sold out crowd behind them, the Preds beat the Ducks 4-1 on goals by Marcel Goc, David Legwand, Steve Sullivan and Patric Hornqvist.
The real story, however, was that this ain't your dad's Nashville Predators. Matter of fact, this ain't even last year's Nashville Predators. There were plenty of changes in the off-season like Shea Weber becoming the new captain, the Matthew Lombardi signing, the depth at the scoring position for the first time in franchise history and, of course, a clear cut number one goaltender at the beginning of the season. But who would've thought we'd see a true change in their style of play?
The Nashville fanbase has literally created cliche's when it discusses the Preds' poor play, thanks to years and years of "the same ol' same ol'" play style. Well, as it turns out, Nashville may have proved tonight that things may be different this season.
What are some of those cliche's? Let's break them down, shall we?
CLICHE #1: "We don't shoot the puck enough."
The Preds registered 49 shots on goal tonight. That's right, 49. Weber led the way with an Alexander Ovechkin-esque eight shots, Sullivan was next with six and Lombardi, Hornqvist and Ryan Suter each had five. That's a change we in Nashville would love to see stick around for a while.
CLICHE #2: "We don't get enough scoring from our star players."
While Goc did score tonight and you wouldn't put him in the "big money, star player" category, the other three goal scorers were the guys the Preds need to bag goals. Sullivan, Hornqvist and – brace yourself – Legwand all scored. If those guys can continuously produce points, Nashville should be well on their way to competing for the Central Division crown.
CLICHE #3: "We don't score on the power play."
Yes it's only one game but c'mon… after the abysmal man advantage last season, any sign of improvement is welcome. And hey, what proved to be the game-winning goal was a power play tally by Sullivan. Also, Nashville was 1-for-6 on the man advantage tonight and – brace yourself again – they fired 16 shots on the power play. That's right, not two or three. SIXTEEN.
CLICHE #4: "We never play a full 60 minutes." (a/k/a "Our second period always sucks.")
After an exciting first stanza that saw chances at both ends, the Preds struck first in the second. The Ducks came right back and tied the game but the Preds didn't let that get to them like we've seen in seasons' past. Just over three minutes later, they notched the power play goal that would prove to be the game-winner. And it didn't stop there. They kept their foot on the throttle, tallying another goal towards the end of the period. Again, if Nashville can play this hard, this consistently, for a full game, they really could challenge for the Central Division title.
CLICHE #5: "They seem to always lay an egg in front of a full building."
The won 4-1 and everyone got Frosty's. Enough said.
So while we know it was only one game, and we know there's still 81 more of these to go, it was great to see the Preds dominate a highly talented opponent. Say what you want about the Ducks, but a roster boasting names like Corey Perry, Ryan Getzlaf, Bobby Ryan and Teemu Selanne are dangerous on any given night. But, from start to finish tonight, it was Nashville, not Anaheim, that was the better team on the ice.
And yes, it won't be like that every night, but for it to be at home, in front of a sold out Bridgestone Arena, it was a great start to the 2010-11 season.
GAME NOTES:
* Pekka Rinne, who made 29 saves, came out of the game after getting run by Ducks forward Troy Bodie. Bodie logged just enough ice time (9:45) to get into a fight and then run Nashville's goaltender. Stay classy, Anaheim.
* Rinne is listed as day-to-day with a "lower body injury." Head Coach Barry Trotz said Rinne's injury was "nothing major." Expect Mark Dekanich to be recalled from the AHL-affiliate Milwaukee Admirals tomorrow as a precaution.
* Anders Lindback made his NHL debut tonight in relief of the hurting Rinne. He stopped all seven Ducks shots he faced.
* Shane O'Brien made his Predators debut tonight, registering one shot, a plus-one rating and no penalty minutes.
* Only Lombardi finished with a minus-rating. He was minus-1.
* 20 of the Preds 49 shots came from the blueline.
* Who had Bouillon in their "first Pred to drop the gloves" pool? You win.
* Weber really led by example tonight. Not only by leading the team in shots but in other ways as well. At the end of the first period, he drove hard to the net when there was no way he'd have time for a shot. He drew a penalty that gave the Preds a full 2:00 power play to start the second. Then, in the third stanza, Getzlaf tried to start some crap with Suter by the Nashville bench. Within seconds of the Ducks captain indicating he was about to escalate the shoving match, Weber stepped in and "quietly" took care of that situation. Getzlaf skated off and play continued.
* The Ducks have now played two games this season and scored a grand total of one goal.
* 2010 first round draft pick Cam Fowler assisted on that one goal, however, so congrats to him for tallying his first career NHL point.