Preview: Ducks at Predators (10/9)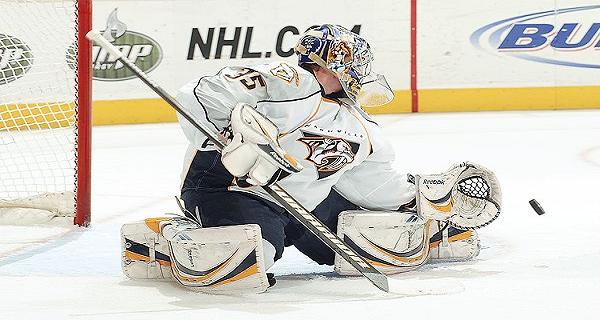 Location: Bridgestone Arena
Game Time: 7:00 pm Central
TV: Fox Sports Tennessee
Radio: 102.9 The Buzz (WBUZ-FM)
Records:
Nashville: 0-0-0 (0)
Anaheim: 0-1-0 (0)
2009-10 Season Series:
11/5/09 – NSH 0 – ANA 4
1/2/10 – ANA 1 – NSH 3
1/9/10 – ANA 3 – NSH 2
3/12/10 – NSH 1 – ANA 0
Still a Witch: Jonas Hiller had a rough start on Friday versus the Red Wings, giving up 4 goals in the first 18 shots he faced before finally settling down and keeping Detroit's last 25 tries out of the net. Last season against the Predators, however, he was nothing short of amazing, letting in a grand total of 5 goals in 4 games, stopping 125 of 130 shots, finishing with a miniscule GAA of 1.26 and a downright ridiculous .962 save percentage. Working in the Preds' favor, however, is that Hiller played on back-to-back nights 8 times last year, finishing with a 2-4-2 record on the second night.
Debuts: Several players will be making their regular season debuts as Nashville Predators. Matthew Lombardi (15), Shane O'Brien (55) and Anders Lindback (39) will be suiting up while Sergei Kostitsyn (74) Jamie Lundmark (21) are on Injured Reserve. While the rest of the team played together during the preseason, O'Brien has yet to officially suit up with the team. Lombardi has scored 1 goal and 2 assists in 10 career games in Bridgestone Arena. O'Brien, a former Duck, has 19 PIMs in 6 games in Bridgestone Arena, 10 of which came from this and 5 of which came from this tilt with Jordin Tootoo. Lindback has never played an NHL game.
Hiller Killer: In 5 games against Jonas Hiller last year, Matthew Lombardi registered 6 points, all on assists.
Milestone: Pekka Rinne will become the 5th different goaltender to start a season opener on Saturday night. He will join previous opening day starters Dan Ellis, Chris Mason, Tomas Vokoun and Mike Dunham in the franchise record books.
Opening Night in Smashville: Saturday night marks the 12th season opener in franchise history. Of the first 11, the Preds have opened the season 6 times at home, 4 on the road and 1 in Tokyo. In 2003, exactly 7 years ago, they also opened against Anaheim, winning a 3-1 game, the first time the Preds had won either their season or home opener. The Predators are 5-6 all time in the season opener, 3-3 at home. As for the home opener, the Preds are 5-5-1-0 and have won their last 3.
Streaks: Wade Belak has not scored in 127 games. His last NHL goal came against the Predators on December 4, 2007…Martin Erat has only scored 1 goal at home in his last 15 home games…David Legwand has not scored in 5 regular season games…Matthew Lombardi scored in 3 of his last 4 regular season games to close last season…Cal O'Reilly's last (and only) home goal was on March 28, 2009…Steve Sullivan has currently played in 122 consecutive games, the second longest active streak behind Ryan Suter's 203 consecutive games. He has only missed one game since returning from his two year absence…Joel Ward has not scored a goal in 14 regular season games…Pekka Rinne is 5-2-1 in his last 8 home games with a .958 save percentage, 3 shutouts and a 1.34 GAA…Shane O'Brien has not taken a shot in 5 games, but scored on the last one he took.
Quick Notes: The Predators have made the playoffs in all but one season when winning their season opener, and have only made it once when losing…There is still room on the 12/6 Cellblock 303 Road Trip to the Preds/Thrashers game. E-mail me at [email protected] for more info…For real-time tweets during the game, be sure to follow us at @cellblock303 and, to join in on the conversation, be sure to tweet along with us by following @PredFans