Preds will pick fourth at the 2013 NHL Draft…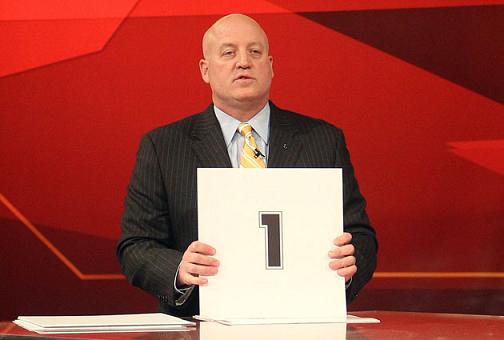 The Nashville Predators finished the regular season in 27th place. That means they would be "Team Four" in the NHL Draft Lottery on Monday night, giving them a 10.7% chance of winning the lottery and a 58% to retain the fourth pick. Considering the cream of this draft class crop is four players deep, picking in the top four was the goal.
But, if a team above them in the final standings won the lottery, the Predators would fall to number five. And while they would still get a great prospect at that position, it would be yet another disappointment in an agonizing 2013 campaign.
In short, they did not want to pick fifth.
Portland Winterhawks defenseman Seth Jones, Halifax Mooseheads winger Jonathan Drouin, Halifax center Nathan MacKinnon and Finnish center Aleksander Barkov are considered the top prizes on June 30 in Newark, New Jersey. TSN's Bob McKenzie has stated that, in his polling of NHL scouts, there's a level of separation after those four.
Now obviously there are still talented forwards at number five and beyond. Swedish pivot Elias Lindholm, Russian winger Valeri Nichushkin and Ottawa 67 's center Sean Monahan will all be good players but, after such an uncharacteristically bad season for Nashville, they really want to remain in the top four.
So it's a good thing they did.
The Colorado Avalanche won the 2013 NHL Draft Lottery and moved up from second to first overall, leapfrogging the last place Florida Panthers. All other teams remained where they were slotted heading into the night.
The interesting thing about this draft class is that all four of the top players bring something different to the table and that will make things interesting come draft day. It's fair to assume that the Avalanche will take Jones as they need serious help on defense and already have some young forwards in place (Matt Duchene, Ryan O'Reilly, Gabriel Landeskog, etc.). So who does Florida go with? At number two, do they need a center? Do they need a dynamic winger? Would they rather trade down to get one of the second-tier defensemen like Darnell Nurse? And then what about the Tampa Bay Lightning at #3?
In a typical year, you know who is going to go first overall and you pretty much know who will go second. There's really no drama until three or four. This is a very unique year in that not only are there four "can't miss" prospects, but each one brings a different set of strengths to the table. Teams will really have to do their homework before they take to the Prudential Center floor with their draft boards.
Nashville could very easily get one of the three top forward prospects and that has to be exciting for Predators fans. This is an organization long known for turning out defensemen and goaltenders but has had an awful time drafting and developing forwards. Well, this is their chance. One of the top guys will be available to them at #4, it's just a matter of who it is and whether they like him well enough to actually pull the trigger.
Either way, they're not picking fifth.