Preds win second shootout of season as they down Caps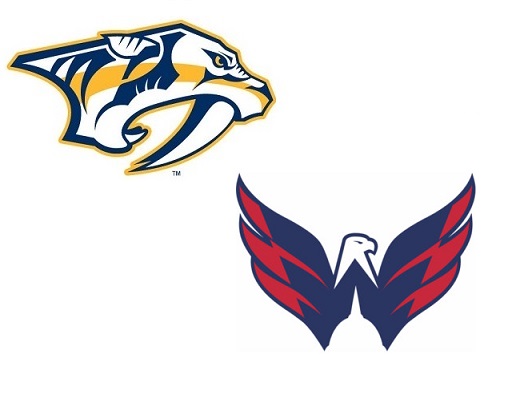 Coming into the night, the Nashville Predators were all but mathematically eliminated from the playoffs. The Washington Capitals, on the other hand, sit just outside the Eastern Conference playoff picture so they need every point they can get.
And that's all they got. A point.
In front of 16,553 at Bridgestone Arena, the Preds won just their second shootout of the season to beat the Caps, 4-3. Craig Smith scored in the second round to give Nashville the victory and improve their record to 33-32-11. With the single point, Washington pulled within one point of the Columbus Blue Jackets but remains on the outside looking in.
Considering the abysmal performance in Dallas a couple nights ago that all but sealed their playoff hopes, it was nice to see the Preds get a win on their home ice.
"I think Friday night was a tough game for us," Patric Hornqvist said. "We didn't really have the juice to play a back‐to-back especially when they came out flying. This was a good bounce-back game for us to show the fans how good we are when we are playing at the top of our game."
His teammate, Matt Cullen, agreed.
"We had a tough one in Dallas," he said. "But to come back, respond and play a hard game against a team that's fighting for a playoff spot, that speaks a lot about our team."
Carter Hutton got the start for Nashville and finished with 23 stops to earn his 18th win of the season.
The Caps got things started when veteran Preds center Mike Fisher committed one of the cardinal sins they teach you in Hockey 101. His attempted outlet pass right in front of his own crease resulted in an immediate turnover and a Troy Brouwer goal.
Fisher would make up for it a couple minutes later, however, when he won a clean face-off back to Shea Weber who blasted a shot from the point. Jaroslav Halak was unable to handle it and Hornqvist pounced on the rebound, tying the game.
Hornqvist would add another before the period ended but not before a Norris Trophy highlight reel play by Weber. With the league's leading goal scorer, Alexander Ovechkin, breaking into the Nashville zone 2-on-1 with rookie phenom Evgeny Kuznetsov. Weber broke up the play and created a chance the other way.
At the other end of the ice, Nicklas Backstrom would fumble a backward pass from John Carlson and Hornqvist would break in all alone. The Stockholm, Sweden native would deke Halak and pot his 17th of the season and second of the game to make it 2-1, Preds, headed into the locker room for the first intermission.
In the middle frame — and with Roman Josi in the penalty box for interference — Brouwer would knot the game at 2-2.
Midway through the final period, Weber one-timed a drop pass by Fisher and blew it past Halak for the 3-2 lead.
"The way Weber shoots that thing, you almost don't even need a screen," Cullen said. "I've played for a while and I've never seen anything like his shot. The accuracy and the velocity is incredible."
"There's nothing to say other than that you've got to be blind not to notice that he's one of the best players in the National Hockey League," Predators Head Coach Barry Trotz said of his captain. "It absolutely astounds me when I listen to stuff on the TV and radio that he doesn't get any mention. It is absolutely absurd."
Backstrom would tie it up a few minutes later thanks to yet another Preds penalty. Backstrom skated in from the blueline and snapped a shot past Hutton to tie the contest, 3-3.
"We took a couple of penalties and I think that changed all the momentum and got it a little more even," Trotz said. "Their power play, which is number one, is so dangerous, with some much skill, and they can really execute. That was the one area that kept them in the game."
A scoreless overtime session would produce a shootout. Coming into the night, the Preds were just 1-9 this season in the skills competition. The Capitals, by contrast, were 9-9.
With the victory, Nashville now has 77 points, just two behind the team directly ahead of them, the Vancouver Canucks, but still seven back of the team that matters, the eighth place Phoenix Coyotes. They are an impressive 4-1-1 in their last six and 7-4-1 in their last 12 but they have very little room for error and four losses (especially to Vancouver and Dallas) is just too much error.
"We need to be realistic," Trotz said. "Our moons have to absolutely align for us to somehow get in. But realistically, we've got a lot of pride in that room. This group has a backbone, professionalism, a resolve. They've got it."
The Preds will now take that resolve and head out west where they'll take on the Anaheim Ducks on Friday and the San Jose Sharks on Saturday. Both games can be seen on Fox Sports Tennessee's sister station, Sport South.
Puck drops on Friday at 9:00pm Central.
MY THREE STARS (as voted on with 5:40 remaining in regulation):
1. Patric Hornqvist (NSH)
2. Troy Brouwer (WSH)
3. Shea Weber (NSH)
THE THREE STARS OF THE NIGHT:
1. Patric Hornqvist (NSH)
2. Shea Weber (NSH)
3. Troy Brouwer (WSH)