PRESS RELEASE: Preds, FSTN announce 68 televised games in HD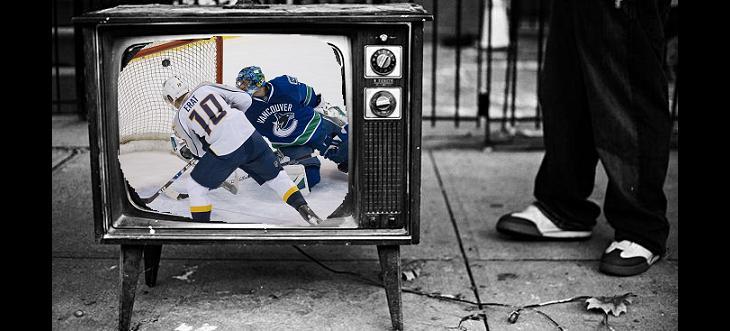 NASHVILLE PREDATORS AND FOX SPORTS TENNESSEE ANNOUNCE2011-12 TELEVISION SCHEDULE
– Franchise-high 68 games scheduled to be televised in high definition-
Nashville, Tenn. (September 15, 2011) – The National Hockey League's Nashville Predators and the team's exclusive regional television partner FOX Sports Tennessee (FSTN)  announced today that the network will televise a franchise-record 68 Nashville Predators' regular-season games during the 2011-2012 NHL season. All games will be televised in HD. See attached for the complete FOX Sports Tennessee Predators' telecast schedule.
The Nashville Predators TV schedule, along with the NHL's national package, assures all 41 road games (39 on FSTN/SPSO, two on Versus/NBC Sports Channel) and 29 home contests from Bridgestone Arena will be televised regionally. Four of the 68 scheduled games will be televised on FOX Sports Tennessee's sister network SportSouth (SPSO). Predators' telecasts will reach cable and satellite households across Tennessee, Kentucky and portions of Alabama and Mississippi and for the first time ever, 42 Nashville Predators games will be broadcast in the Atlanta market and throughout Georgia, partially filling the broadcast hole left by the departure of the Atlanta Thrashers to Winnipeg. Fans should also take note that O'Charley's is now the official away game viewing-party headquarters for the 2011-12 season; all 41 Nashville Predators road games will be broadcast at each Middle Tennessee O'Charley's location.
"With a franchise-record 68 games scheduled to be televised, eight games more than last season, and all road games televised for the first time in franchise history, the stage is set for another great season," Executive Vice President Chris Parker said. "This year represents our highest-ever number of televised games, combined with an expanded broadcast coverage area, meaning a greater number of fans now have even more opportunities to catch the exhilarating, high-speed, hard-hitting action of the Nashville Predators all season long."
Coverage begins with the Predators' regular-season opener on Oct. 7 against the Columbus Blue Jackets (6 p.m. CT). Other highlights from the 2011-12 telecast schedule include the 1,000th game in franchise history (Nov. 12 vs. the Montreal Canadiens), six games apiece against the Central Division-rival Chicago Blackhawks and Detroit Red Wings, three games versus the Predators' 2011 first-round playoff-foe Anaheim Ducks and all four games against the Predators' 2011 second-round playoff opponent Vancouver Canucks. Additionally, the final 20 regular-season games (Feb. 27- April 7) will also be televised (19 on FSTN/SPSO, one on Versus/NBC Sports Channel).
The FOX Sports Tennessee broadcast duo of play-by-play announcer Pete Weber and analyst Terry Crisp enter their fourteenth season calling Predators' action.  In addition to game telecasts, Weber and Crisp will co-host Lexus Predators Live, an extended post-game coverage show after every game on FOX Sports Tennessee. Returning for his fourth season is Mark Howard, rinkside reporter for all Predators home games. Joining Pete Weber and Terry Crisp on the broadcast, Howard provides player and coach interviews during pre- and post-game coverage as well as intermissions.
Tickets for all the first half of the 2011-12 Nashville Predators season are available now online at nashvillepredators.com, by calling (615) 770-PUCK (7825) or at the Bridgestone Arena box office.
The FOX Sports regional networks serving the Southeast – FOX Sports South, FOX Sports Carolinas, FOX Sports Tennessee and SportSouth – collectively reach more than 12.9 million cable and satellite households in seven states across the Southeast.  They are the television home of the Atlanta Braves, Atlanta Hawks, Carolina Hurricanes, Charlotte Bobcats, Memphis Grizzlies and Nashville Predators, as well as the Atlantic Coast Conference, Southeastern Conference and Conference USA, and offer expanded coverage of the University of Kentucky, University of South Carolina and University of Tennessee.  Combined, the four networks produce more than 800 live local events each year.  For more information, please visit FOXSportsSouth.com, FOXSportsCarolinas.com andFOXSportsTennessee.com