PRESS RELEASE: Preds announce rookie camp dates, rosters…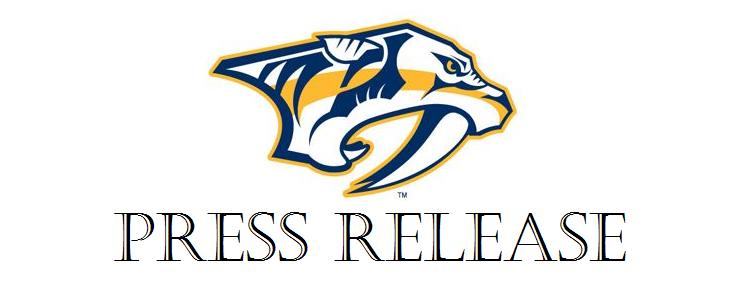 PREDATORS ROOKIE CAMP OPENS SEPT. 10, PROSPECTS HEAD TO FLORIDA FOR A PAIR OF GAMES SEPT. 12 & 13
Nashville, Tenn. (August 24, 2011) – Nashville Predators President of Hockey Operations/General Manager David Poile announced today that a team of Nashville Predators prospects will open camp on Saturday, Sept. 10 with a on-ice practice at Centennial Sportsplex, and travel to Sunrise, Fla., for games against Tampa Bay Lightning and Florida Panthers prospects on Sept. 12 (5 p.m. CT vs. T.B.) and Sept. 13 (11 a.m. CT vs. FLA) at Saveology.com Iceplex.
This marks the fourth consecutive season Predators prospects have played a Southeast Division opponent during their camp. In 2008, they hosted the Atlanta Thrashers for two games at Bridgestone Arena, and in 2009 a team of rookies traveled to Duluth, Ga., for games at the Thrashers' practice facility. Last season, Florida and Nashville rookies played a two-game set in Sunrise.
Prospects expected to attend the camp include first rounders Chet Pickard (2008), Ryan Ellis (2009) and Austin Watson (2010), second rounders Roman Josi (2008) and Charles-Olivier Roussel (2009), as well as top prospects Craig Smith – one of Team USA's three best players at the 2011 World Championships – and Taylor Beck – who ranked among the Top 10 OHL scorers in each of the past two seasons.
The games and camp will precede the opening of 2011 Training Camp, which occurs Sept. 16, with testing and physicals.  The Predators' first day on the ice will be Saturday, Sept. 17 at Centennial Sportsplex and they will play eight preseason contests from Sept. 19-Oct. 1, including three at home (Sept. 24 vs. Winnipeg, Sept. 28 vs. Washington and Oct. 1 vs. Carolina).
—
All events listed below are at Centennial Sportsplex unless otherwise noted.
SATURDAY, SEPT. 10
10:00am-10:30am :: Goalies
10:30am-12:00pm :: Practice
12:30pm-2:00pm :: Off-ice workouts and meetings
SUNDAY, SEPT. 11
10:00am-10:30am :: Goalies
10:30am-12:00pm :: Practice
12:30pm-2:00pm :: Off-ice workouts and meetings
MONDAY, SEPT. 12 (at Saveology.com Iceplex)
5:00pm :: Preds prospects vs. Tampa Bay prospects
TUESDAY, SEPT. 13 (at Saveology.com Iceplex)
11:00am :: Preds prospects vs. Florida prospects
WEDNESDAY, SEPT. 14
1:00pm-3:00pm :: Practice
3:30pm-4:45pm :: Off-ice workouts and meetings
—
FULL ROOKIE CAMP ROSTER
FORWARDS
Brent Andrews
Taylor Beck
Gabriel Bourque
David Elsner
Ryan Flynn
Jani Lajunen
Michael Latta
Robert Slaney
Josh Shalla
Austin Watson
DEFENSE
Taylor Aronson
Victor Bartley
Mattias Ekholm
Ryan Ellis
Jeffrey Foss
Charlies-Olivier Roussel
Scott Valentine
GOALTENDERS
Atte Engren
Chet Pickard