Nashville's "Top 6 forward" could come from up-state New York…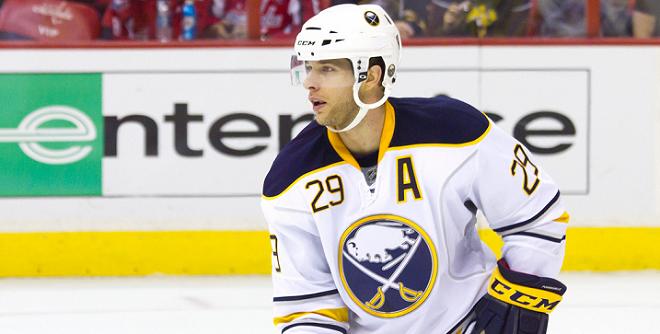 Before we begin, here's a timeline for you:
Tom Ciggaran, Nashville Predators chairman, on July 13, 2011: "We are projecting this year's payroll to be the highest in franchise history."
David Poile, Nashville Predators General Manager, on August 3, 2011: "If (our forwards) don't come through, we'll have to make some deals to make our team better so we can compete for the Cup."
Darcy Regier, Buffalo Sabres General Manager, on August 18, 2011: "I think we'll probably, more than anything, look toward the trade market and see what we can do there (to get below the salary cap ceiling)."
The facts are simple. The Nashville Predators need a goal scorer. The Buffalo Sabres need to dump payroll. The Preds don't usually like to give up roster players. The Sabres need to shed $3.6 million to get under the cap ceiling. Nashville could absorb $3.6 million and be just a tad over last year's payroll. Buffalo has enough talent at the forward position to where some guys are expendable.
I mean, c'mon, the writing's on the wall here.
The Sabres blog Die By the Blade put up an enlightening post last Friday stating that while Shaone Morrisonn and Ales Kotalik are the front runners to be waived en route to the minor leagues, Jason Pominville and Brad Boyes (among others) could be traded to get Buffalo under the cap. Both of those guys would be interesting additions, for different reasons.
Pominville, 28, has scored at least 20 goals in each of his past five seasons. He's also got four years of 60+ points, including an 80 point campaign. The right wing is slated to make $5.3 million for the next three seasons, which means he wouldn't be a rental player but a true long-term building block for the organization. Not to mention, at 28 years old, he's in the prime of his career.
Boyes, on the other hand, is a former 43-goal scorer but has looked more and more like a one-hit wonder ever since. Sure he had the follow-up year of 72 points but 14 and 17 goals in the next two years, respectively, doesn't warrant his $4 million deal. Of course, if the Predators brought him in in hopes that he could rekindle his scoring touch, 2011-12 is a contract year for the 29-year old center. And we all know what happens in contract years. But is it too risky for the Preds to go on faith? After all, they just bought out another guy who wasn't worth the $4 million he was due (JP Dumont).
The obvious choice is Pominville. If Nashville could get him into a Predators sweater somehow, they would have an essential piece in place at the forward position; something they don't have now. Sergei Kostitsyn, Patric Hornqvist and Mike Fisher are great, but none of them are 70 point guys. Pominville is. And has been. Taking on his large contract and sending a solid prospect the other way just might be worth the risk.
And hey, aren't they still trying to woo Shea Weber, Ryan Suter and Pekka Rinne into staying in Music City long term? Guess what a stud forward would do in that regard.
—
ALL SALARY CAP FIGURES ARE COURTESY OF CAPGEEK.COM
—
PHOTO CREDIT: Bridget Samuels // special to section303.com (used with permission)