Preview: Blues at Predators (10/14)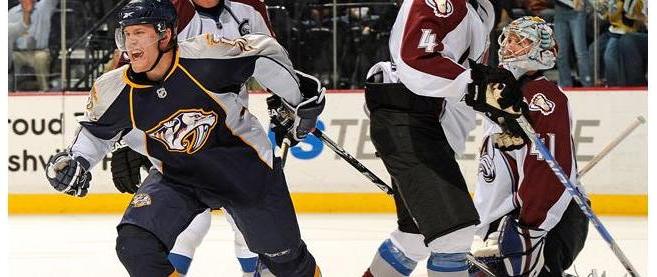 Location: Bridgestone Arena
Game Time: 7:00 pm Central
TV: None
Radio: 102.9 The Buzz (WBUZ-FM)
Records:
Nashville: 2-0-0 (4)
St. Louis: 2-0-0 (4)
2009-10 Regular Season Series:
11/12/09 – NSH 3 – STL 1
11/27/09 – STL 3 – NSH 1
12/29/09 – NSH 4 – STL 3
3/21/10 – NSH 3 – STL 2
4/1/10 – STL 2 – NSH 3
4/10/10 – STL 1 – NSH 2 (SO)
Dominance: With 35 wins over the Blues, the Predators have more wins over St. Louis than any other franchise. The record doesn't tell the whole story, however. Prior to the lockout, the Predators had an 8-19-3-2 record against the Blues, including a 3-10-1-2 road record. After the lockout, however, the roles reversed…and then some. The Predators won the first 14 games against the Blues following the lockout and have held a 27-6-3 record. Last year's  November 27 loss marked the first regulation home loss to the Blues since 2003-04. Prior to the lockout, the Predators had a 5-9-2-0 record against the Blues at home…turning it around to a purely dominant 14-1-3.
Anders the Giant: On Wednesday night, Anders Lindback made his first career start in Chicago and won, stopping 23 of 25 shots against the defending Stanley Cup Champions. Five previous goalies have made their first career starts with the Predators: Tomas Vokoun, Chris Mason, Jan Lasak, Brian Finley and Pekka Rinne. Of those goalies, only Pekka Rinne won his first career start – coincidentally, also a victory over Chicago.
Special Teams: It's two games into the year, but so far, the power play looks promising, registering goals in both games. With a 20.0% power play percentage, the Preds currently sit ninth in the league in power play scoring. Consider last season, it took the Preds 9 games to register their second power play goal and they only scored 1 in their last 11. Last year, the Preds also gave up 3 goals on the PK in the first two games of the year. This year, they've only given up 1.
Fun Stats: Through 2 games, Steve Sullivan is on pace for 82 goals and 123 points. Marcel Goc, David Legwand, Joel Ward, JP Dumont, Shea Weber and Ryan Suter are all on pace to score 82 points, while Goc, Legwand, Ward, Hornqvist and Wilson are on pace to score 42 goals. Unfortunately, Francis Bouillon is on pace for 287 penalty minutes, which is slightly above his career average of 42.1.
Halak: Through two starts so far this season, Blues goalie Jaroslav Halak has allowed 2 goals total – 1 in each game. However, against Anaheim, he only faced 14 shots. Last season, Halak had 26 wins and 5 shutouts in 45 games, with an impressive 2.40 GAA (9th) and a .924 save percentage (4th). Inexplicably, Montreal traded the 25-year-old goaltender, opting to stick with Carey Price. Halak's only previous performance against Nashville was on January 15, 2008. The Habs won that game 3-2 on the back of Halak's 23 saves. Halak appears to have only improved since that date.
Quick Notes: There is still room on the 12/6 Cellblock 303 Road Trip to the Preds/Thrashers game. E-mail me at [email protected] for more info…For real-time tweets during the game, be sure to follow us at @cellblock303 and, to join in on the conversation, be sure to tweet along with us by following @PredFans