Lindback gets first career win as Preds eke one out in Chicago…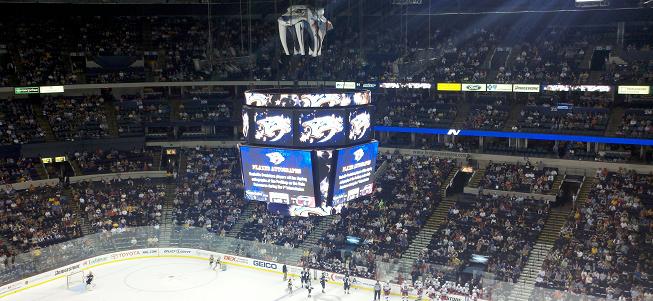 When an injured Pekka Rinne pulled himself out of the season opener, you could almost hear PredNation hold it's collective breath.
You can exhale now.
Anders Lindback, a goaltender who had zero North American hockey experience coming into this season, got the victory in his first career start tonight, leading the Nashville Predators to a 3-2 win over the Stanley Cup Champion Chicago Blackhawks.
The 6'6″ Swede, who's becoming known among Predator fans as "Anders the Giant," made 23 saves on 25 Blackhawks shots and looked every bit as poised as you could hope after thinking about his first career NHL start for three straight days now. He was also voted Nashville color man Terry Crisp's number one star of the game.
Nashville got goals from Steve Sullivan, Colin Wilson and Joel Ward.
After Blackhawks defenseman Nick Boynton was given two minutes for delay of game (clearing the puck over the glass), Ward bagged the game winning goal with less than 30 seconds remaining in regulation. David Legwand, who made the play happen out of determination and hard work, got the puck to JP Dumont standing at the near post. Dumont, flanked by two Chicago penalty killers, looked as if he had all the time in the world and got the pass to Ward who put the game away into what was basically an empty net.
The Blackhawks struck first when Patrick Kane tallied on the power play less than five minutes into the game. Fans at the Chill Out Party at the O'Charley's in Franklin wondered how Lindback would respond after letting a goal in early. He didn't have much of a chance to think about it as Sullivan notched an equalizer less than two minutes later.
Chicago's other superstar Jonathan Toews then gave the Blackhawks the lead heading in to the first intermission when he fired a wrist shot past Lindback to put his team up 2-1.
That's how it would stay until the third period when Colin Wilson went to put a shot on net from the high slot. The shot was deflected off the defending Chicago player's stick and thus found it's way past goaltender Corey Crawford.
Then came the deciding goal by Ward.
The Preds come right back to play another division rival tomorrow night at Bridgestone Arena. The St. Louis Blues are in town and it'll be interesting to see if Lindback gets the call again or if Rinne is ready to play. With how well Lindback played, it makes rushing Rinne back less necessary.
Lindback has now played in both of Nashville's regular season games, is 1-0-0, has faced 32 shots and stopped 30 of them.
Mark Dekanich was called up from the AHL-affiliate Milwaukee Admirals earlier this week and served as back-up netminder in Chicago.
GAME NOTES:
* Nine different Predators skaters tallied one point tonight.
* Only Legwand and Patric Hornqvist finished with minus ratings (each had a minus-1)
* Legwand and Sullivan led all players (both teams) with four shots on goal each.
* Per usual, Shea Weber led all Nashville skaters in time with 26:36.
* The Preds converted on the man advantage for the second straight game. Just imagine if that continues…
—
SPECIAL THANKS: Dirk Hoag of On the Forecheck caught my misspelling of "eke" in the headline. I had originally put "eek" but, thanks to his bringing it to my attention, I've changed it to the correct spelling. (Some may say "who cares?" but giving credit where it's due is a big deal to me and, well, I wouldn't have fixed it without Dirk.)