Preview: Predators at Blackhawks (10/13)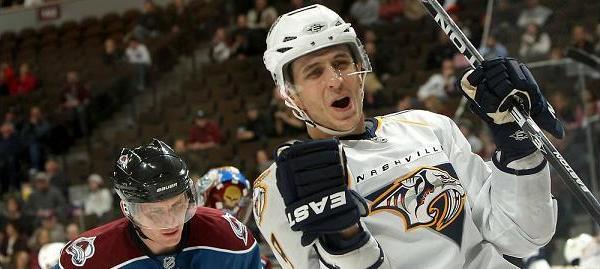 Location: United Center (Chicago, Illinois)
Game Time: 7:30 pm Central
TV: Fox Sports Tennessee
Radio: 102.9 The Buzz (WBUZ-FM)
Records:
Nashville: 1-0-0 (2)
Chicago: 1-1-1 (3)
2009-10 Regular Season Series:
10/15/09 – CHI 3 – NSH 1
10/24/09 – NSH 0 – CHI 2
10/29/09 – CHI 0 – NSH 2
12/4/09 – NSH 4 – CHI 1
12/26/09 – CHI 4 – NSH 1
12/27/09 – NSH 4 – CHI 5
This Seems Familiar: Last season, including the playoffs, the Predators matched up against the Blackhawks 12 times in 88 total games. Many of the same faces will appear tomorrow, including Patrick Kane, Marian Hossa, Norris Trophy winner Duncan Keith and Conn Smythe winner Jonathan Toews. Among the missing in action will be Dustin Byfuglien, Brent Sopel, Andrew Ladd, who were traded to the Thrashers, Kris Versteeg, who was traded to Toronto, and goaltender Antti Niemi, who – if you were living under a rock all summer – the Hawks did not resign and now plays in San Jose. Also missing will be Niklas Hjalmarsson, who will be serving a 2 game suspension for a nasty elbow on Buffalo's Jason Pominville.
It Ain't Right: Unfortunately for Nashville, the Blackhawks rid themselves of one goalie that gave the Preds headaches and brought in another who has given the Preds far more trouble. In two games against the Predators last year, he was 1-0-1 with a shutout, a .963 save percentage and a 0.89 save percentage. Since the lockout, Turco has beaten the Preds 8 times in 13 games. However, it will be interesting to see how he performs against a somewhat familiar opponent without his usual cast of Stars around him.
Road Opener: Last year, the Predators finished the season with the best road record in franchise history (23-15-3) and with the next-to-most road wins in the NHL. Last year, the Predators opened on the road against Marty Turco and the Dallas Stars, beating them in a shootout. That was only the third official road opener win in franchise history and the second on North American soil. The Predators are 3-7-1 all-time with the only other two wins coming in 2000 against Pittsburgh in Japan and in 2005 against Colorado.
Goalie Inexperience: With Pekka Rinne sitting out Wednesday's game with a lower body injury, Nashville's two goalies – Anders Lindback and Mark Dekanich – will come into the game with a combined 17 minutes of NHL experience…on the road…against the defending Stanley Cup Champion. On the bright side, they do have a combined 1.000 save percentage and a 0.00 GAA. For comparison's sake, the goalie Lindback (who is presumed to be the starter) will be facing has 29,169 more NHL minutes than he does.
Quick Notes: The Blackhawks lead the all time series at 34-25-4-6…There is still room on the 12/6 Cellblock 303 Road Trip to the Preds/Thrashers game. E-mail me at [email protected] for more info…For real-time tweets during the game, be sure to follow us at @cellblock303 and, to join in on the conversation, be sure to tweet along with us by following @PredFans
UPDATE (11:05am): It has been announced that the Blackhawks will start Corey Crawford in net tonight.