Previewing the Predators' forwards for 2011-12, part one…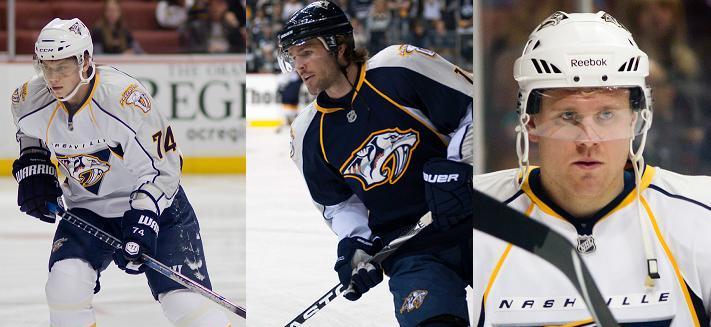 THIS IS THE FIRST IN OUR MULTI-PART SERIES PREVIEWING THE 2011-12 NASHVILLE PREDATORS ROSTER. A NEW INSTALLMENT WILL BE POSTED DAILY, THROUGH AUGUST 26.
—
"We need a goal scorer!"
That's what Nashville Predators fans have been shouting ever since Alexander Radulov unexpectedly defected to his native Russia back in the summer of 2008. This will be the fourth season without the talented winger and it remains a huge need for this hockey club.
"They know it's a need and they've only acquired one bonafide NHL forward this summer? How is that 'filling the need?'"
That's what Preds fans are saying this off-season. But hold the phone. When you take a more in-depth look at what Nashville has up front, thing don't seem that bad, after all.
—
PROJECTED LINE #1 || Sergei Kostitsyn – Mike Fisher – Patric Hornqvist
Sergei Kostitsyn had a breakout year with the Predators. He tied for the team lead in scoring (50 points) and led the team in goals (23). There's no reason to think he'll be slowing down either as he's finally out of Montreal and all the drama that was there. If "SK74" can prove that he's not a one-hit wonder, he'll not only earn an even bigger raise than he got this summer, but he'll help lead the Predators to make their sixth playoff appearance in seven years. Getting off to a great start — something he didn't do last year because of an injury — is essential to gaining that confidence early and never looking back. Kostitsyn? With confidence? Look out. We offer our apologies to the opposing goaltenders in advance.
2011-12 PREDICTION: 53 points
Mike Fisher was acquired this past February and will undoubtedly center the top line. It will be his first training camp not in Kanata, Ontario, Canada and he should develop even more chemistry with his Music City teammates because of it. Since coming over from the Ottawa Senators, Fisher collected 12 points in 27 regular season games but reportedly played through an injury in a lot of those games. In the first round of the playoffs he realized his potential, netting six points in the first five games. He had surgery in the off-season and should be good to go by the pre-season. Centering the two most offensively talented guys on the squad should produce high numbers.
2011-12 PREDICTION: 55 points
Patric Hornqvist was the Predators' leading goal scorer a year ago (30) and, despite his slight regression to 21 goals in 2010-11, he only tallied three less points and was a constant threat in the offensive zone. He was always making things happen, always getting to the front of the net and always using his speed to generate scoring chances. There were plenty of games last season where you turned to the person next to you and said "He'll get one tonight, you watch." Hornqvist looked that good. If he can continue to click on all cylinders with his linemates, look for yet another breakout season for the man they affectionately call "Horn Dog."
2011-12 PREDICTION: 61 points