Pull your 47 jerseys out, he's back home…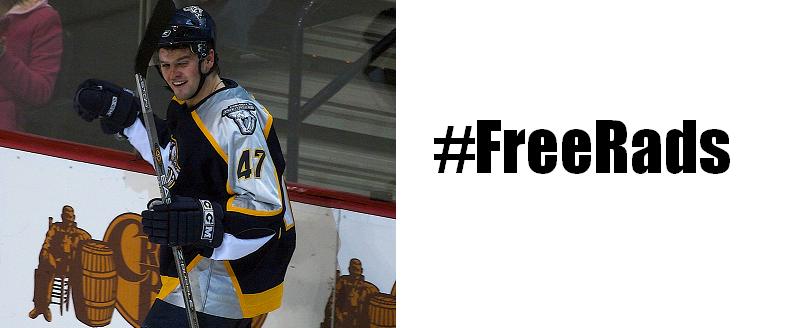 After more than three and a half long years, the Nashville Predators can finally put a sensitive, tired issue to bed.
Alexander Radulov is coming home.
NHL.com contributor Slava Malamud is reporting that the 2004 first round draft pick of the Preds has reached an agreement with his KHL club that will allow him to return to the NHL now. He may join the Preds in time for Saturday's game game against the Winnipeg Jets.
Make no mistake about it, both parties were motivated for Radulov to return. The Predators want Radulov back this season because  the 25-year old gives them yet another weapon in what they believe is a serious Stanley Cup run. Radulov wants to come back because he still has another year on his entry level contract at the cheap rate of $980,000 and, the second he steps on the ice, he fulfills that obligation.
In short, it's a win-win for everyone involved.
The sniper defected to his native Russia in the summer of 2008 to become the face of the new Kontinental Hockey League. All he's done since defecting is become a four-time KHL All-Star, win a KHL MVP award (2010), win a Gagarin Cup Championship (2011) and set league records in scoring (254 points all-time), assists (163) and even plus/minus (plus-98).
All Nashville's done since he defected is make the playoffs two out of three years, win their first playoff round in franchise history, lock up one of the best goaltenders in the league for seven years in Pekka Rinne and make Radulov's closest friends on the team, Shea Weber and Ryan Suter, captain and alternate captain, respectively.
Both have done well while apart but think of the things they could accomplish while together.
In a weird twist of fate, Radulov could go from the most hated hockey player in Music City to the one guy who holds the key to success. Think about it, Weber and Suter are about to become restricted and unrestricted free agents, respectively. Suter has said that he's waiting for General Manager David Poile to go out and sign a top notch forward before he re-signs. Weber has said that he's waiting to see "if we can keep guys around" (translation: if Suter stays). So, if the addition of Radulov gets those two guys to re-up with Nashville long-term, not only does the wayward Russian make the Predators a Stanley Cup contender this season, but he saves the franchise from a possible rebuild.
The Preds have always had one glaring weakness in their organization: a true goal scorer. Radulov, the 15th overall selection in the 2004 draft, was going to fill that void. After he was drafted, he joined the Quebec Remparts of the QMJHL and lit the league on fire. His rookie season was above average but his sophomore season was one in which legends are made. En route to the 2006 Memorial Cup Championship, Radulov posted 152 points in 62 games, had a 50-game point streak and even collected 55 points in 23 playoff games. They even retired his jersey the following season.
Once he turned pro, the Nizhny Tagil, Russia native had an 18-game cup of coffee with the Milwaukee Admirals before heading to the big club. Once there (and with an abbreviated season, no less), he set the franchise record for scoring by a rookie (37 points), a record that still stands. Then, in what would be his last season as a Predator, Radulov tallied an impressive 26 goals and 58 points in what was believed to be the start of a tremendous NHL career.
Then he bolted.
Now here we are, 45 months later and he can try and recapture that career.
—
Where does he fit in? CLICK HERE.
—
PHOTO CREDIT: Jameson Roper // Flickr (used with permission)