Red Wings even series after Predators fail to convert on chances once again…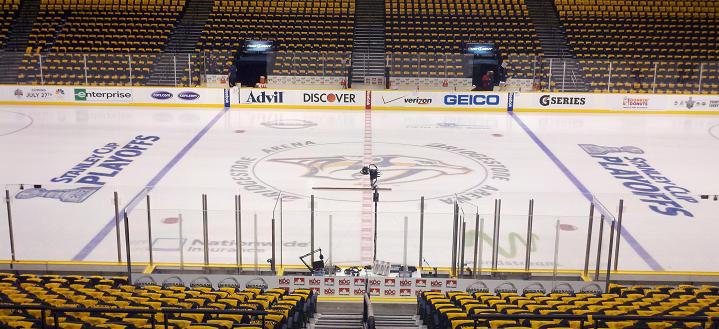 Just as it was in Game 1, the Predators couldn't convert when they needed to in Game 2.
The difference, however, was that they still managed to win Game 1.
In front of yet another sold out crowd at Bridgestone Arena, the Nashville Predators had countless chances but only converted twice, losing to the Detroit Red Wings, 3-2 on Friday night. Two posts, a power play that went 0-for-6 and several whiffs at wide open nets all contributed to the loss.
Pekka Rinne faced just 17 shots while his counterpart on the other end of the ice, Jimmy Howard, collected 24 saves in the victory.
The series is tied 1-1 and Detroit now has home ice advantage.
"They've got a good team, we've got a good team and we're going toe to toe," Nashville Head Coach Barry Trotz said. "We're okay with that."
Despite an excess of scoring opportunities for Nashville early on, it was the Red Wings that struck first. Brandon Yip went to hit Tomas Holmstrom along the boards and that freed up Ian White at the point. Instead of rushing the shot, White noticed that he had all kinds of room in front of him. He skated into the high slot, made one move to his right and then used the traffic in front of Rinne as a screen to give Detroit the 1-0 lead.
Minutes later, Cory Emmerton put the Wings up 2-0. Preds defenseman Kevin Klein had a shot blocked at the Red Wing blueline and Detroit went the other way. Roman Josi did exactly what he should do when defending an odd-man rush, take away the pass, forcing Emmerton to shoot. He did just that but the puck whizzed past Rinne for the two goal lead.
The score would stay that way well into the middle frame until Josi started a rush up ice. The Swiss blueliner carried into the Detroit zone, the puck came to Alexander Radulov who spotted Andrei Kostitsyn standing all alone in the slot. The elder Kostitsyn brother fumbled the pass a tad but corralled it, toe dragged around Kyle Quincey and wristed a laser past Howard to pull within one.
It would be short lived, however. Red Wing defenseman Brad Stuart skated down the wing and fired an innocent puck toward Rinne. With Johan Franzen crashing the net, the puck went off of his calf and in for the 3-1 lead.
"I don't know if he aimed for my leg or it just happened to touch it," Franzen recalled. "But he came in, we had a 3-on-2 and got a lucky bounce."
In the final frame, Nashville would make things interesting. With just under 5:00 remaining, Shea Weber pinched to keep the attack going. The puck came to Nick Spaling who got it to Paul Gaustad behind the Red Wings net. With Detroit's attention on the puck carrier, the Predators captain skated to the front of the net, received a pass from Gaustad and lifted a backhander past Howard to make it 3-2, Detroit.
It wouldn't be enough though and thoughts dwelled on missed opportunities.
Nashville will now try and steal back home ice advantage by winning Game 3 in Detroit on Sunday afternoon.
Puck drops at 11:00am Central and you can catch all the action on NBC.
THE THREE STARS OF THE NIGHT:
1) Jimmy Howard (DET)
2) Johan Franzen (DET)
3) Cory Emmerton (DET)
—
PHOTO CREDIT: Jeremy K. Gover // section303.com