REMINDER: Tonight is the 1st Summer Sucks, Drop the Puck! event!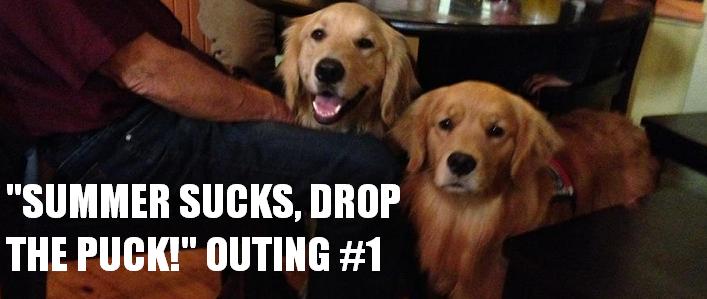 Looking for something to do tonight? How about watching Game 1 of the Stanley Cup Finals with your fellow hockey fans while helping out a member of the Predators family?
Nashville Predators' Game Ops extraordinaire Ron Zolkower (whose official title is Presentation Producer) has been diabetic for 27 years and, by coming out to Tin Roof tonight at 6:00pm, you can help him! There is a $5 suggested donation for admission but, obviously, you can contribute more if you feel led. There will also be a silent auction featuring a customized Shea Weber autographed jersey, a customized Pekka Rinne autographed jersey and an authentic Nashville Predators retro white third jersey. All in an effort to get Zolkower to his goal of $8,000 in order to get a diabetic assist dog.
Band Stage favorites Small Time Rockstars and SixWire will be performing and CMT's Next Super Star Danielle Lauderdale is also scheduled to make an appearance. If that wasn't enough, John Elefante, the former lead singer of Kansas, will also be performing.
The benefit is for Zolkower, a diabetic whose body has lost the ability to recognize when he's having a blood sugar crash or a blood sugar spike, putting him in dangerous territory on a daily basis. This has prompted him and his family to look for alternative ways to detect such fluctuations.
Enter man's best friend.
Ears Eyes Nose and Paws is a non-profit organization in Carrboro, North Carolina. Their sole purpose is to train and place service dogs and diabetic assistance dogs. If he can achieve his goal of $8,000, Zolkower will travel to the Tar Heel State in just two short weeks in order to meet with the people (and canines) of Ears Eyes Nose and Paws in hopes of being matched up with either Duncan or Stella pictured above.
The good news — no, the GREAT news — is that Zolkower has already raised over $7,000 thanks to the generosity and selflessness of the Predators fanbase and the hockey world. With your help, this fundraising event will get him the other $1,000 he need to achieve his goal.
So come out to Tin Roof tonight and help a member of the Preds family.
If you can't make it to the event, you can still contribute! CLICK HERE to donate to the cause.
—
HEADLINE PHOTO CREDIT: Ears Eyes Nose and Paws // Facebook (used with permission)