REPORT: Magnus Hellberg called up, Rinne out?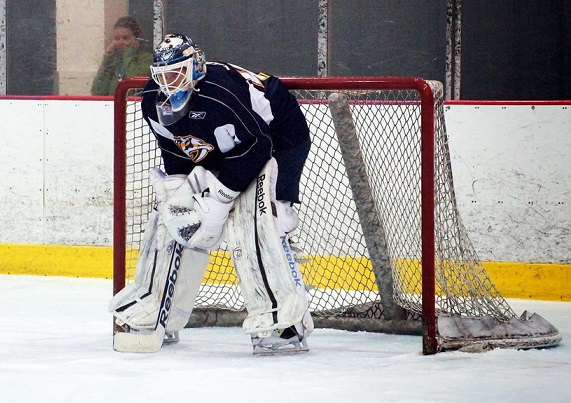 When the Nashville Predators take the ice tonight against the Winnipeg Jets, they may be without starting goaltender Pekka Rinne.
Fox 6 in Milwaukee is reporting — complete with video of Admirals head coach Dean Evason delivering the news — goaltender Magnus Hellberg has been called up to the big club for the first time.
Since back-up netminder Carter Hutton was seen on the ice yesterday and Rinne was not, the news late last night prompted the question of "What's wrong with Pekka?" The two-time Vezina finalist was on the wrong side of the 2-0 loss to the Wild up in St. Paul, Minnesota on Tuesday but made 27 saves and was the only reason his team was even in the game.
Despite showing no ill-effects after the contest, Rinne could be either hurt or sick.
In his first season in North America, Hellberg was the sole reason the Milwaukee Admirals made the playoffs last season. February was his best month, posting a 6-1-0 record with two shutouts, a 1.36  GAA and a .950 SV%, prompting the AHL to name him the CCM/AHL Goaltender of the Month. He followed it up with a solid March and April, going 12-7-0 with a GAA below 1.90 and winning his final four games — posting shutouts in the final two — to propel his club into the Calder Cup Playoffs on the final day of the AHL season.
Hellberg more than deserves a shot. If it's an illness that's keeping Rinne out of the lineup, he probably won't see any time between the pipes.
Preds radio analyst Stu Grimson speculated on 102.5 The Game this morning that Rinne could just be under the weather.
—
PHOTO CREDIT: Sarah Fuqua (used with permission)