Predators have traded Legwand to Red Wings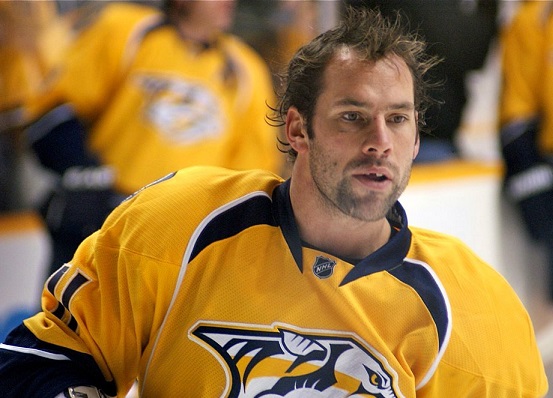 The past two days, the league has had a flurry of activity. Big names changing jerseys, heavily rumored UFA's going elsewhere and, of course, a veteran goaltender finally getting his wish. The Nashville Predators, however, didn't do much.
Until now.
General Manager David Poile has traded center David Legwand to the Detroit Red Wings in exchange for veteran winger Patrick Eaves, top prospect Calle Jarnkrok and a third round pick (that becomes a second if Detroit makes the playoffs), per multiple reports (first reported by The Predatorial's Kris Martel).
The center had to approve the deal by way of waiving his no-move clause.
The Pittsburgh Penguins, Anaheim Ducks and Red Wings were all rumored to be interested in acquiring Nashville's first ever draft pick.
Legwand is the franchise's all-time leader in games played (956), goals (210), assists (356) and points (566). The Detroit, Michigan native is known around the league as one of the best shut down centers in the game. He's played at least one game in every season of the Predators' existence and leaves the team as one of it's leading scorers this year (40 points; tied with Shea Weber).
As we wrote last night, it would have been a mistake for Poile and the front office to keep him. Legwand, 33, is a pending unrestricted free agent and probably won't be back anyway. If, in fact that's the case, the Preds needed to get at least something for him — especially while there was a market — before he walked for nothing.
Luckily, they did better than "something."
Jarnkrok is the true prize of the deal. He's a young, gifted center that was Detroit's second round pick back in 2010. He's signed through 2015 and was a rookie of the year finalist in the Swedish Elite League the year that Preds blueliner Mattias Ekholm won the award in 2011. The 22-year old winger is third on Detroit's AHL affiliate with 35 points.
Legwand will wear number 17 in Motown.
UPDATE (3.5.14, 4:33pm Central): The trade is now official. The press release is below.
***
Nashville, Tenn. – Nashville Predators President of Hockey Operations/General Manager David Poile announced today that the club has acquired forwards Calle Jarnkrok, Patrick Eaves and a conditional third-round selection in the 2014 Entry Draft for forward David Legwand. If the Red Wings make the 2014 Stanley Cup Playoffs, the third-round selection becomes a second rounder.
Jarnkrok, 22 (9/25/91), has posted 36 points (13g-23a) in 57 games during his first full season in North America with the AHL's Grand Rapids Griffins in 2013-14, and recently rated No. 41 in The Hockey News' Top 50 NHL-affiliated prospects. A native of Gavle, Sweden, Jarnkrok helped the Tre Kronor win gold at the 2013 World Junior Championships (on a team that also included Predators prospect Filip Forsberg), and won a Swedish League title in 2012 with Brynas, playing alongside Predators defenseman Mattias Ekholm. The 6-0, 176-pound forward ranked ninth in Swedish League points in 2012-13 (13g-29a-42pts), and led all junior players in goals (11) and points (29) during the title-winning season of 2011-12, but finished runner-up in Rookie of the Year voting to Ekholm. He was Detroit's second selection, 51st overall (second round), in the 2010 Entry Draft.
Eaves, 29 (5/1/84), has five points (2g-3a) in 23 games with Detroit this season, and six points (4g-2a) in eight games with the Grand Rapids. The former 20-goal scorer (2005-06 with the Senators), has amassed 146 points (74g-72a) in 439 NHL games with Ottawa, Carolina and Detroit in nine NHL seasons. The two-time All-American at Boston College and 2004 World Junior Champion with the United States was Ottawa's first pick, 29th overall (first round), in the 2003 Entry Draft held at Bridgestone Arena.
"We thank David Legwand for being a pillar of this organization since he became our first-ever draft pick in 1998," Poile said. "David has been a part of some of the greatest moments in our franchise's history since he made his NHL debut in April of 1999. He has scored big goals, played an integral part in all of our playoff series and helped lead the franchise through our greatest triumphs and trials. While today we say goodbye to one of this club's most unforgettable players, we wish him the best in his career going forward and all of his future endeavors."
—
PHOTO CREDIT: Sarah Fuqua (used with permission)