REPORT: Preds buy out Brett Lebda…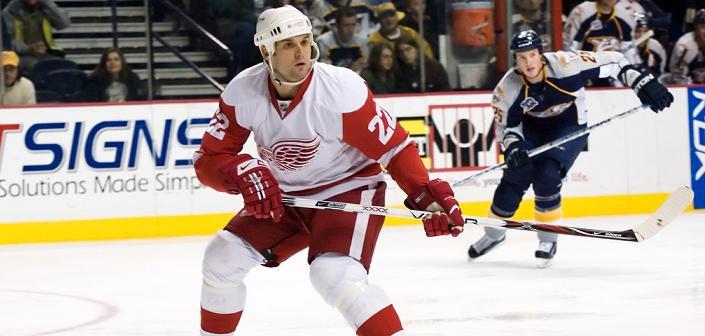 If you were planning on getting LEBDA on the back of your new Preds sweater, you'll have to pick someone else.
James Mirtle of The Globe and Mail is reporting that the Nashville Predators have bought out veteran defenseman Brett Lebda.
The 29-year old Buffalo Grove, Illinois native was recently acquired in a trade that sent young blueliner Cody Franson and concussed center Matthew Lombardi to the Toronto Maple Leafs. Minor league left wing Robert Slaney also came over from Toronto.
When a blog uses ALL CAPS in it's headline, you know they're excited about something. So, needless to say, when the trade went down and this tweet/blog was published by our good friends over at Pension Plan Puppets, Predators fans knew all they needed to know about Lebda.
Let's face it, Lebda was never going to make this hockey club anyway. At best, he was playing with the AHL-affiliate Milwaukee Admirals this season. This buyout gives him a chance to go where he may have a shot at playing time, and that includes over in Europe.
So while this does, technically speaking, make the July 3 trade read as "Franson and Lombardi for a minor league winger," don't rely on what you see on paper. Think about it critically and realize that it was a necessary move to unload Lombardi's contract and risk. And while trading Franson hurts, it only stings because of the depth of the blueline in the system. In a way, the Preds could "afford" to cut Franson loose given talented guys like Ryan Ellis, Mattias Ekholm and Roman Josi are waiting in the wings.
FUN FACT: Nashville had never bought out a player before this summer but now, in the past 41 days, they've bought out two. JP Dumont was no longer worth the $4.5 million was slated to get next season so General Manager David Poile did the right thing by buying him out on June 30.
FUN FACT #2: While Lebda was a Predator for just 38 days, it's centerman Eric Belanger who still holds the record for shortest amount of time as a Predator. Belanger was acquired from the Carolina Hurricanes on February 9, 2007 for Josef Vasicek but then flipped and traded to the Atlanta Thrashers for Vitaly Vishnevsky on February 10.
—
PHOTO CREDIT: Gosha Images // Flickr (used with permission)