Report: Preds have signed free agent center Begin (UPDATED)…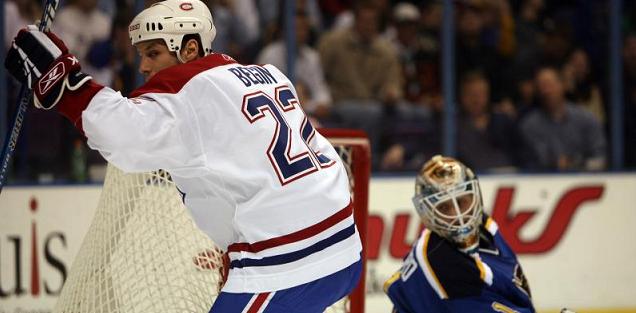 RDS.ca is reporting (in french) that the Nashville Predators have signed veteran free agent center Steve Begin to a one year deal worth $550,000.
Begin, a former second round pick of the Calgary Flames, is considered a penalty kill specialist. And, considering the Nashville penalty kill is only successful 68.8% of the time — good enough for third worst in the NHL, by the way — General Manager David Poile and company must have thought this was a major area of concern that wouldn't just "get better" as the season went on.
Of the 10 goals the Predators have allowed this season, half have come on the penalty kill. Furthermore, the opposition converting on the power play has come at key moments.
In the game against the Chicago Blackhawks last Wednesday, Chicago got on the board first, thanks to an early tally on the power play. A goal that could've gotten into the head and confidence of rookie goaltender Anders Lindback who was making his first career NHL start. Fortunately Nashville came right back back and tied the game just minutes later.
Then, the next night against the St. Louis Blues, the Preds came out of the gate flying, leading 3-1 after the first period in a game that was much more lopsided than that. But Nashville let the Blues hang around. And how did they let them hang around? By allowing two power play goals. Again, fortunately Nashville ended up edging out St. Louis in that contest 4-3.
Then there was the Washington Capitals game. The Preds were up 2-0 after 40 minutes but the Caps first goal came on the power play and then came the overtime winner by Brooks Laich after that controversial tripping call Ryan Suter was called on.
Controversial or not, you still have to kill it off, and the Preds couldn't. This may have been the reason Poile went out and inked Begin to a one year deal. He can be a penalty kill specialist at least while Marcel Goc recovers from his upper body injury that will keep him out 2-4 weeks.
So while they've only lost one game as a direct result of the penalty kill unit, they've allowed teams to stick around and/or get back into games while on the penalty kill. Not a good sign going forward because, with all the injuries this team is facing, not to mention in a tough Western Conference, Nashville can ill afford poor special teams play if they want to go back to the playoffs.
—
UPDATE (11:35am): TSN's Bob McKenzie is reporting that the Predators have immediately put Begin on waivers, clearing the way for him to go to the AHL-affiliate Milwaukee Admirals. Is his a rehab stint or was he signed purely for depth in the Nashville organization? Time will tell.
—
MAD PROPS to @PredsOddManRush for the tip via Twitter.