Report: Preds ink Sergei Kostitsyn to one-year, $2.5m deal…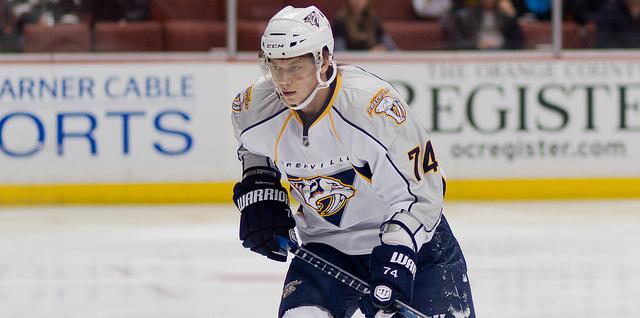 According to Tim Wharnsby of CBC Sports, the Nashville Predators have signed their 2010-11 leading goal scorer Sergei Kostitsyn to a one-year deal worth $2.5 million.
The other four in-limbo restricted free agents embroiled in this controversy signed yesterday. Cal O'Reilly, Matt Halischuk, Nick Spaling and minor league Chris Mueller were all penned to deals, avoiding the hearings set for today and next Wednesday. Kostitsyn was the only one left. And it made sense. After all, all the 24-year old Belarusian did was come in and lead the team in goals (23), tie for the team lead in points (50) and lead the league in shooting percentage (.247). All for just $550,000.
Kostitsyn deserved a raise.
But the raise he got was a lot more substantial than what he would have gotten had the Preds filed the paperwork correctly. Any restricted free agent (with Kostitsyn's pay scale) given a qualifying offer is set to see a 10% raise. Instead, what he got was a 450% raise.
This begs the question: is one good season worth $2.5 million? Patric Hornqvist had one good season back in 2009-10 when he scored a team high 30 goals and he was rewarded with a new three year deal worth $9.2 million total. So, if Kostitsyn signed for less than that, is it really that bad?
It should be noted that Kostitsyn would've probably gotten more than the $2.5 million on the open market, had the ruling come down in favor of the NHLPA. If it had, the Novopolotsk, Belarus native would've become an unrestricted free agent and been allowed to sign wherever he wanted. He expressed interest in staying in Nashville but, obviously, once offers start coming in from other teams, everything changes.
In the end, I'd have to say this is a good deal for Nashville. Sure, since they could've gotten one more season out of him at far less (had the ruling gone in the team's favor), it stings a little. But, at the same time, given what his value would've been on the open market (and what Hornqvist got in a similar situation), a short-term deal at $2.5 million doesn't seem that bad.
Now it's onto Shea Weber…
—
PHOTO CREDIT: Bridget Samuels // special to section303.com (used with permission)
About Jeremy K. Gover
Jeremy grew up in the Bay Area cheering for the Sharks since their inception. He moved to Nashville in September of 2005 and became a season ticket holder a day later. Thankfully, he no longer bleeds teal. You can e-mail Jeremy at [email protected].
Upcoming Schedule
Nashville at Florida

September 25, 2023 at 1:00 pm – 4:00 pm

Nashville at Florida

September 25, 2023 at 5:00 pm – 8:00 pm

Tampa Bay at Nashville

September 27, 2023 at 7:00 pm – 10:00 pm

Nashville at Tampa Bay

September 30, 2023 at 4:00 pm – 7:00 pm

Carolina at Nashville

October 5, 2023 at 7:00 pm – 10:00 pm

Nashville at Carolina

October 6, 2023 at 6:00 pm – 9:00 pm

Nashville at Tampa Bay

October 10, 2023 at 4:30 pm – 7:30 pm

ESPN, ESPN+

Seattle at Nashville

October 12, 2023 at 7:00 pm – 10:00 pm

Nashville at Boston

October 14, 2023 at 6:00 pm – 9:00 pm

Edmonton at Nashville

October 17, 2023 at 7:00 pm – 10:00 pm