Three Minutes With (Preds prospect edition): Chase Balisy…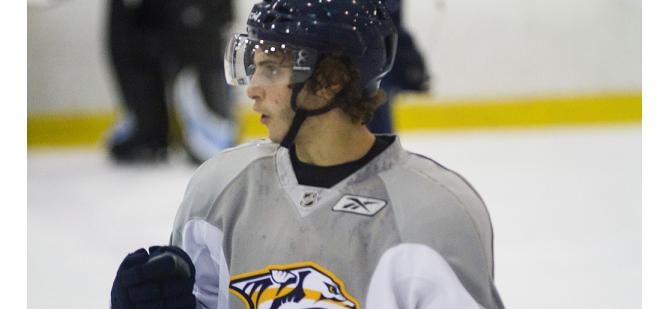 Last week, during the Rookie Development Camp the Nashville Predators put on annually, section303.com had the chance to sit down with 2011 NHL Draft pick Chase Balisy.
Balisy, a forward at Western Michigan University drafted in the sixth round, became the latest in what seems like a long string of Californians drafted by the Predators. The Fullerton, California native lived on the same street as Nashville defenseman Jonathon Blum while growing up, as a matter of fact.
In the interview, Balisy shares how he received the news that he was drafted, his path to the NHL and his experience at Dev Camp.
section303.com: You were drafted by the Preds but you weren't in the building. How did you find out that you'd been selected?
Chase Balisy: Um, a bunch of my buddies and I were just sitting there at school and, you know, I got a call from my assistant coach and he said I was drafted. It was pretty cool and I told him "you're the first one to call me."
303: What was that emotion like? Were you expecting to get drafted?
CB: I thought it would be like a 50-50 shot. I wasn't for sure, that's probably why I wasn't watching it. But, uh, yeah it was pretty cool, the whole experience getting drafted and everything.
303: What's that like? Going from the "50-50 chance" of getting drafted to being here at an NHL camp?
CB: I mean, it's really happened so quick. I mean, I just got drafted a week ago and I've been here a week now so… it's all happened real quickly. But it's been really valuable. I think I can learn a lot from this. Going up against a lot of these other guys here and meeting them, seeing how they play and stuff, I think that's a really big experience for me.
303: For those of us who don't get to watch a lot of CCHA hockey, kind of describe your game a little bit.
CB: I'd have to say I'm an offensive player. I play both ways but I'm very offensive. Just try to make plays. I'm not the fastest skater but I use my vision and hockey smarts to try and out smart people.
303: What was your path to this point?
CB: I grew up in California until I was 10. I moved up to Toronto until I was 16 and then I played at Ann Arbor when I was 17 and 18 at the (United States) Development Program. And then I went to Western this past year.
303: Of all the things you could possibly do and play in Southern California, how'd you get into hockey?
CB: My dad played when he was younger. He's from Toronto so, you know, hockey's huge up there. That's pretty much how I got started. And I'm actually right down the street from Jon Blum.
303: Did you know fellow Californian Taylor Aronson (Nashville's third round pick in 2010) before too?
CB: I met him two years ago actually. We worked out together for a bit there and, uh, that's the first time I met him. I haven't really seen him in a while, this is the first time since and I've been rooming with him so that's pretty cool too.
303: What's that like? Two Californians rooming together at an NHL camp?
CB: I think it's pretty cool actually. I mean, all the Cali kids usually stick together. When you're from Cali, you're pretty much always together with all the Cali kids so I think it's pretty cool.
—
PHOTO CREDIT: Rachel Addison // Rachel Addison Photography (used with permission)