Sergei Kostitsyn and Preds avoid arbitration, agree to 2-year deal…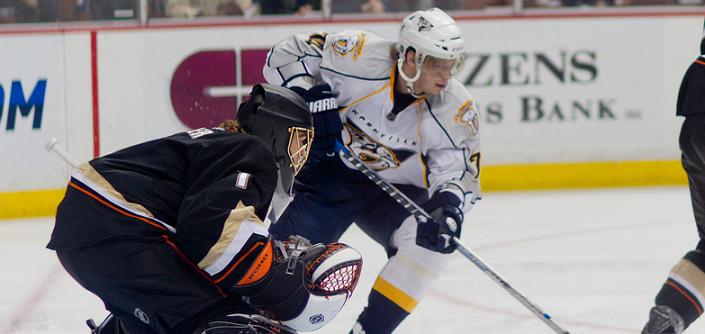 Per TSN's Darren Dreger, the Nashville Predators have avoided arbitration with winger Sergei Kostitsyn.
The Novopolotsk, Belarus native has reportedly agreed on a two-year deal worth a total of $6 million. The actual year-by-year salary should be known soon.
Kostitsyn was traded from the Montreal Canadiens to the Predators back in the summer of 2010 in exchange for the negotiating rights of two players who Nashville wasn't going to ask back anyway: goaltender Dan Ellis and rarely-used forward Dustin Boyd. Since the swap, Ellis has been relegated to a back-up in both Tampa and Anaheim and Boyd's found himself over in the KHL. Meanwhile, Kostitsyn (the guy the Habs couldn't wait to get rid of) has posted 93 points (40 goals, 53 assists) in two seasons and even led the Predators in goals (23) and tied for the team lead in scoring (50) in 2011-12.
Kostitsyn was rewarded for his standout season with a one-year contract worth $2.5 million. After proving that first season in Music City wasn't a fluke, General Manager David Poile has further rewarded him with a raise and this multi-year deal.
His brother Andrei, who was acquired by Nashville at the trade deadline this past season, remains unsigned. He posted 12 points in 19 games with the Predators but his role in the late night festivities with Alexander Radulov before Game 2 of the Western Conference Semifinals hasn't gone unnoticed around the league, it seems.
UPDATE (7.23.12; 1:55pm): The Predators have made it official. Below is the press release.
***
Nashville, Tenn. (July 23, 2012) – Nashville Predators President of Hockey Operations/General Manager David Poile announced today that the club has signed forward Sergei Kostitsyn to a two-year, $6 million contract.
Kostitsyn, 25 (3/20/87), notched 43 points (17g-26a) in 75 games in 2011-12, one season after leading the Predators in goals (23) and tying for the team lead in points (50). In addition to setting career highs in game-winning goals (3), shots (97) and average ice time (16:28) in 2011-12, the 6-0, 196-pound right wing ranked 10th in the NHL in shooting percentage (17.5), making his 21.1 percent success rate from 2010-12 is tops among players with at least 30 goals. In 307 career NHL contests with Nashville and Montreal since 2007, the Novopolotsk, Belarus native has 161 points (64g-97a).
Montreal's sixth choice, 200th overall (seventh round), in the 2005 Entry Draft has represented Belarus in 10 international competitions since 2003, including the 2010 Olympics and the World Championships in May.
—
PHOTO CREDIT: Bridget Samuels // Flickr (used with permission)