Rinne says being on the cover of NHL 13 would be "an honor"…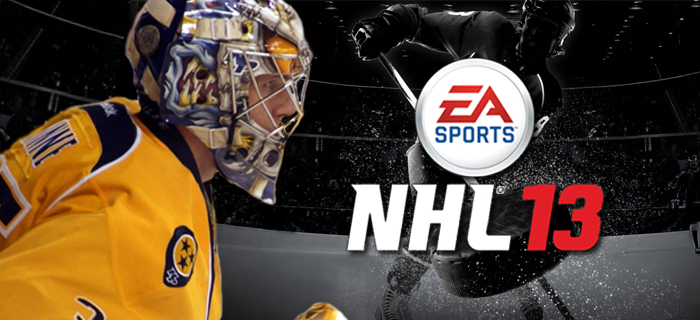 Nashville Predators goaltender Pekka Rinne is in a class with some pretty elite NHL talent. Yes, he's nominated for the Vezina Trophy as the league's best goaltender but we're not talking about post season hardware.
We're talking about video games.
Rinne — along with names like Philadelphia's Claude Giroux, Detroit's Pavel Datsyuk and New York's Henrik Lundqvist — is among the final 16 for the NHL 13 cover. If he were to win, Rinne would become the first goaltender to grace the cover of the EA Sports NHL video game franchise since John Vanbiesbrouck back on NHL 97.
"I've always been a big video game player and I love that game," Rinne said. "A lot of times that's the reason that you buy the game, who's on the cover. And usually it's one of the very top players in the NHL so it's an honor."
The voting is done by the fans and, starting on May 3, you can vote for Rinne to win his match-up against Chicago Blackhawks forward Patrick Sharp. If he prevails, Rinne may see some stiff competition in the next round, meeting the winner of the Jordan Eberle (Edmonton) and John Tavares (New York Islanders) bracket.
A lot of us played installment X of NHL after school or after work. Heck, a lot of us still do. Sometimes by ourselves in an effort to win the Stanley Cup and sometimes with friends in an effort to win bragging rights. Rinne did both.
"It was so competitive against my buddies and we would always pick the best teams," Rinne recalled. "If I would play a season though, I would always try to get a lot of Finnish guys and add them up. My (main) guy was always Teemu Selanne."
When we asked Rinne who his team-of-choice was, he reluctantly answered.
"Every year, the ratings would change a little bit but Detroit had a good team in that game."
Knowing that wasn't the correct answer, especially before a critical game five against the Red Wings, he immediately backtracked.
"And a lot of other teams too. Another thing we would do is we would randomize teams or we'd use the national teams."
Since the 1990's, Finland and it's next door neighbor Sweden have gone back-and-fourth in contending for world hockey supremacy, especially in Europe. Just last year Finland won gold at the World Championships while Sweden took home silver. In 2006, however, it was the other way around as Sweden took home gold and Finland was left with the bronze. Sweden has 15 total medals in World Junior Championship competition while Finland has 12. Both have two golds, however. Needless to say, hockey is pretty big in Rinne's native Finland, as is the NHL video game franchise.
"It was very easy to get the game in Finland," he said. "It's one of the most sold sports games in Finland. They even had a Finnish play-by-play guy. He was the same guy who calls the national games on TV."
That guy's name is Antero Mertaranta. While in North America play-by-play duties are done by former NHL on ESPN broadcaster Gary Thorne, other countries have their own voice over talents featured in the NHL franchise. Some countries even have their very own cover athlete.
Since Switzerland seems to fancy their own country-exclusive cover (see: 1, 2 and 3), when can we start voting for Roman Josi? Just give us the word, EA. We're ready for that too.
—
GRAPHIC CREDIT: Bradley Field // special to section303.com
PHOTO CREDIT: Sarah Fuqua // Flickr (used with permission)