Rinne unbeatable in Preds victory over Wings…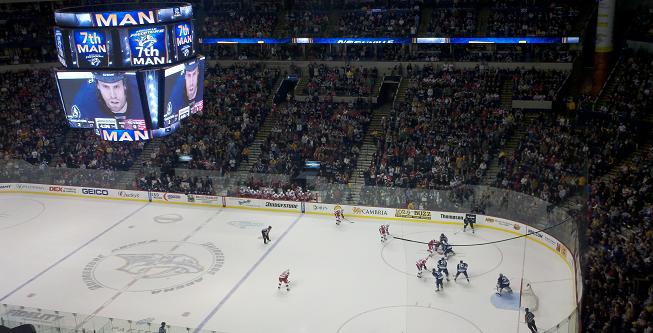 A blast on the power play, a shorthanded goal that most players only dream about and 35 ridiculous saves. That was the recipe for success for the Nashville Predators tonight.
In front 17,113 at Bridgestone Arena, Detroit Red Wings goaltender Joey MacDonald left his team wishing they had Evgeni Nabokov. Instead, the back-up they were forced to settle for allowed three goals on 29 Nashville shots in route to a 3-0 Preds victory.
Nashville got 35 saves out of Pekka Rinne as well as a goal from Shea Weber and two from Sergei Kostitsyn in the win. The Preds are now just five points back from Detroit in the Central Division.
The first period was all Nashville, holding their arch rivals to only six shots while firing off 11 of their own. And, if there was any question who was in the driver's seat, the Preds opened the scoring. After Justin Abdelkader picked up a penalty by driving hard to the net and barreling over Rinne, Weber unleashed one of his patented slapshots to put his team up 1-0.
Midway through the second stanza, the hometown crowd thought they'd pulled ahead by two. Steve Sullivan broke in on the Detroit net by making a great move but then, upon MacDonald committing to an earlier possibility, Sullivan shot it right into his outstretched, desperation-attempt glove hand along the goal line. As one Preds fan tweeted, Sullivan "had 80% of the net (to shoot at) but shot it into 12″ of glove." The score, therefore, would stay at 1-0, Nashville.
But the two-goal lead would come soon enough. In one of the prettiest goals you'll see, Kostitsyn broke in shorthanded, beat his man by using his body as a shield, and then – from an impossible angle, no less – roofed a one-handed backhander up and over MacDonald to make it 2-0.
The final frame was completely dominated by Detroit but the Preds managed to stave off the onslaught and, just for good measure, added an insurance marker with just under three minutes remaining. Kostitsyn scored his second of the night and 14th of the season in the closing minutes to make it 3-0.
The Predators will now turn their attention to the Edmonton Oilers in a game they should win and, after this performance tonight, absolutely must win. Not because the Fighting Taylor Hall's are a threat to take a playoff spot away from Nashville, but rather because if they can beat one of the West's best, they certainly must be able to beat the West's worst.
Puck drops at 7:05pm Central in a special Monday tilt here at Bridgestone Arena.
LEFTOVER THOUGHTS:
* Both the San Jose Sharks and Anaheim Ducks won their games today, putting the Preds in sixth place coming into the game. With the win, however, they are now back in fourth.
* The Red Wings were shutout last night against Columbus as well. They haven't scored a goal since they tallied seven against Ottawa on February 2.
* With his two helpers, Ryan Suter tied his defensive partner Weber for the team lead in assists.
* With his two goals, Kostitsyn now has 30 points. Not only is that a career high but he's now second on the team in scoring.
* Matt Halischuk, while he didn't get on the scoresheet, played like a guy rewarding his team for not sending him down to Milwaukee. All around great hustle for the entire 60 minutes.
* The 35 shots Rinne faced tonight are the most he's faced in a shutout victory since blanking Detroit 1-0 on March 27, 2010 when he had 38 saves.
* Vince Gill rocked the band stage during the first intermission.
* Oh yeah, and then rock legend Alice Cooper joined him.
MY THREE STARS (as voted on with 7:25 left in regulation):
1) Pekka Rinne (NSH)
2) Ryan Suter (NSH)
3) Joel Ward (NSH) <— knew I should've voted for SK74. He got his second goal after I'd turned my sheet in.
THE THREE STARS OF THE GAME:
1) Pekka Rinne (NSH)
2) Ryan Suter (NSH)
3) Sergei Kostitsyn (NSH)
ADVANCED STATISTICS:
[table id=5/]
—
PHOTO CREDIT: Jeremy K. Gover // section303.com
ADVANCED STATISTICS: Patten Fuqua // section303.com (sourced with data from TimeOnIce.com)