Oilers "massacre" Preds in Monday night tilt…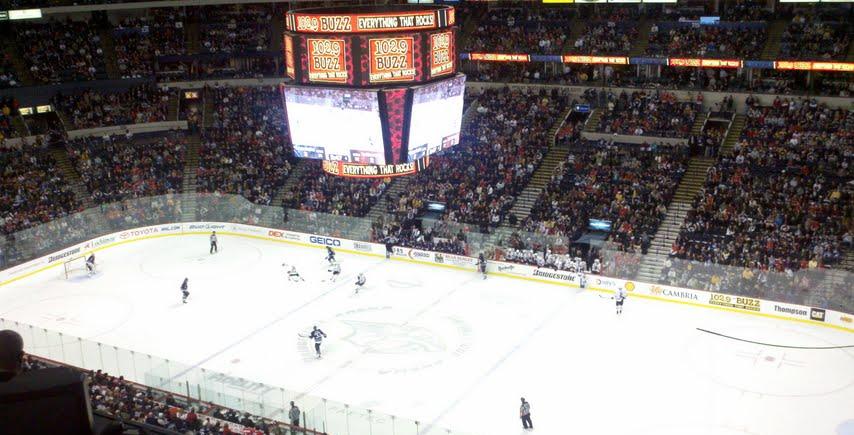 While the Nashville Predators were busy outshooting the Edmonton Oilers 12-1 in the opening 10 minutes, a Preds blogger tweeted "this could be a massacre."
Boy, was he right.
In front of 14,388 at Bridgestone Arena, the Predators walked right into the trap game that Buddy Oakes talked about this morning. The Oilers weathered the early storm and went onto win just their 16th game of the season, this one by the score of 4-0.
Edmonton's 16 wins is an NHL low.
The Predators fired 16 shots on Edmonton goaltender Devan Dubnyk in the first period alone but couldn't get any of their 37 shots past him in the 60 minutes. Pekka Rinne, on the other hand, allowed four goals on just 20 shots but received little help from his teammates in front of him.
Edmonton opened the scoring after an onslaught by the Predators. On just their fifth shot of the game, Andrew Cogliano put a rebound through Rinne's legs to put his team on the board.
Former Predator Ryan Jones put the Oilers up 2-0 during the middle frame when he jumped off the bench and into the play as the late man. Colin Fraser carried into the zone and rifled a pass to an unchecked Jones who one-timed it past Rinne to put the visitors up 2-0.
After a controversial third goal – and then a fourth – Head Coach Barry Trotz called on Anders Lindback to finish out the game.
"When they made it 4-0, Peks has been so good I just said 'it's not our night' so I gave Lindy a little work," Trotz said.
Lindback came in and made two saves to finish out the night.
The Predators will take on the mighty Red Wings once again, this time in Detroit on Wednesday night. Their arch rivals had a game of their own tonight and came out the victors, further distancing themselves from the Preds. Because Nashville couldn't keep pace with a win tonight, the Wings now have a seven point lead in the Central Division standings.
Puck drops at 6:30pm Central and can be seen on FS-Tennessee.
LEFTOVER THOUGHTS:
* Since the lockout, the Predators are 4-10 in their games immediately following a victory over Detroit.
* The Preds had 12 shots in the opening 10:00 of action. The Oilers had one.
* Shea Weber had four shots in the first period alone. He finished with six on net and 11 total (one blocked, four missed).
* Alexander Sulzer was a game-low minus-3.
* Only JP Dumont, Ryan Suter and Nick Spaling finished with an even rating.
* It was Dubnyk's first career NHL shutout.
* Canadian TV broadcast network Rogers SportsNet plugged Predators Assistant Coach Brent Peterson's Peterson for Parkinson's charity during the broadcast.
MY THREE STARS (as voted on with 5:41 remaining in regulation)
1) Devan Dubnyk (EDM)
2) Taylor Hall (EDM)
3) Andrew Cogliano (EDM)
THE THREE STARS OF THE NIGHT:
1) Devan Dubnyk (EDM)
2) Ryan Jones (EDM)
3) Andrew Cogliano (EDM)
ADVANCED STATISTICS:
[table id=9/]
—
FRIENDLY RIBBING TIME: It's all Chris's fault!… It's all Chris's fault!… It's all Chris's fault!…
—
PHOTO CREDIT: Jeremy K. Gover // section303.com
ADVANCED STATISTICS: Patten Fuqua // section303.com (sourced with data from TimeOnIce.com)