Seth Jones signs entry-level deal with Predators…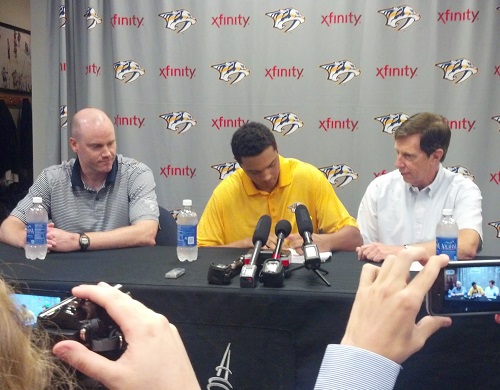 At noon today, alongside General Manager David Poile, Head Coach Barry Trotz, Chief Amateur Scout Jeff Kealty, Assistant Coach Phil Housley and his father "Popeye," first round pick Seth Jones signed a three-year entry-level deal with the Nashville Predators.
The fourth pick in the 2013 NHL Draft, as well as 30 other Predators' prospects, are in town for Development Camp at Centennial SportsPlex.
"I'm extremely excited to be here right now," Jones said. "I'm extremely happy to sign here today as well. I'm ready to prove myself and show that I can play in the NHL next year."
Jones was ranked as the top available prospect by three of the main five draft publications but fell to the Predators at four when the Colorado Avalanche, Florida Panthers and Tampa Bay Lightning all chose to go the forward route. Poile, Trotz and AGM Paul Fenton were thrilled as Jones topped the organization's board as well.
"This is the first time we've ever gotten the top player on our list," Poile said at the draft.
Born in Plano, Texas, Jones' love for hockey was born in Denver while his dad played in the NBA for the Nuggets. All he's done since then is become a member of the US Development Program, lead the Portland Winterhawks to a WHL Championship and help lead Team USA to the gold medal at the 2013 World Junior Championships in Ufa, Russia.
"I've lived my whole life wanting to play in the NHL," Jones said. "This is one step in reaching my goal of playing in the NHL."
Housley was Jones' head coach at the World Juniors.
If you had asked the elder Jones if the sport of hockey would become a family affair back in the mid-1990's, he probably would have laughed. But that's exactly how it's turned out. Seth's brother, Caleb, is scheduled to don his own Winterhawks sweater next season.
"It's a huge day for us," Poile said. "I think the pain or the scars of not making the playoffs has been replaced by drafting Seth."
The official press release is below.
***
NASHVILLE (July 10, 2013) – Nashville Predators President of Hockey Operations/General Manager David Poile announced today that the club has signed defenseman Seth Jones, the fourth overall selection in the 2013 NHL Entry Draft, to a three-year entry-level contract. The base salary of the contract is $925,000, with maximum rookie contract signing bonuses giving him a salary cap number of $3.225 million.
"Seth is a special prospect and we were fortunate to be in position to select him," Poile said. "As a player, he brings so much to our organization, from size you can't teach to a skill set that every team hopes to add and a personality and maturity that will allow him to grow and develop with our veteran core and other young players.  He has excelled at the junior and international levels and we anticipate him enjoying great success at the NHL level."
Jones, (10/3/94), was ranked the No. 1 North American skater by NHL Central Scouting after finishing the 2012-13 season with 14 goals and 42 assists for 56 points to go with a +46 rating in 61 games as Portland posted its best regular-season record in franchise history. That point total led all WHL rookie blueliners. He added another five goals and 15 points in 21 WHL playoff games as the Winterhawks captured the 2013 WHL Championship.  Jones, who won the Jim Piggott Trophy as the WHL's Rookie of the Year, played alongside current Preds prospect Brendan Leipsic during the 2012-13 season.
"I'm excited to be one step closer to realizing the dream of playing in the NHL, especially with a world-class organization like the Nashville Predators," Jones said. "Since being drafted by the Predators and coming to development camp, I'm certain this is the right spot and right organization for me. I can't wait for the opportunity to learn from and play with world class players like Shea Weber and Pekka Rinne and other veteran players who will help me in my development on and off the ice."
Internationally, Jones served as alternate captain of Team USA at the 2013 World Junior Championships, and helped lead the Americans, who were coached by Preds assistant coach Phil Housley, to the gold medal after posting seven points (1g-6a) and a +8 rating in seven tournament games. In 2012, he captained the Under-18 team to gold at the World Championship, finishing second in team scoring with eight points (3g-5a). He also claimed gold at the World Under-18 Championships in 2011.
—
PHOTO CREDIT: Sarah Fuqua (used with permission)