Three Minutes With: Predators Chief Amateur Scout Jeff Kealty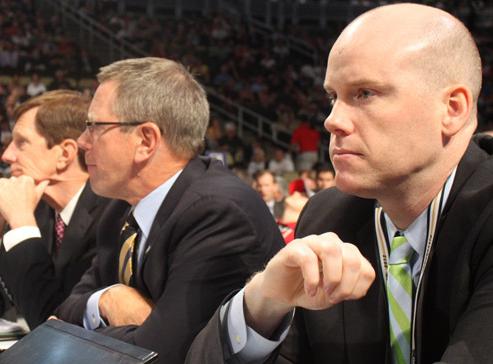 Every year during Development Camp, we pick Nashville Predators players, coaches and personalities to be a part of our Three Minutes With… interview series. The summer of 2013 is no different and we're bringing you a great lineup this year.
In today's edition, we sit down with Predators Chief Amateur Scout Jeff Kealty to get his take on a handful of prospects. He provides you with some really great insight that you don't find very often.
***
section303.com: Head Coach Barry Trotz talked about how Seth Jones and Filip Forsberg have that "it" factor. He added that he couldn't explain it but that, having been around so long, he can see it. Would you agree with that?
Jeff Kealty: I do agree with that, yeah. They are 18 and 19 years old so, if you consider the polish that they have, they come across as professional's at such a young age. I think you can probably attribute that to all the experiences they've had. They've both been on the international stage for quite a while now with their respective national teams, they're both leaders and both captains and I think there's a reason for that. It's the way the carry themselves. Everybody matures at different stages and different levels but these are both  mature guys who "got it" at a young age.
303: The Colorado Avalanche were actually true to their word and picked Nathan MacKinnon. The dominoes fell from there. One, what was your emotion like when Tampa Bay took the stage and spoke the name "Jonathan Drouin" and two, was Jones the guy you realistically wanted all along?
Kealty: Yeah, we had him where we had him on our list for a reason. All of those players are terrific and you heard about how the top end of the draft was talked about, they were all world class players. But, to know what a high-end player he's been for such a long time, to know that you had a chance to get him was certainly a real good feeling.
303: Phil Housley was his coach at the World Juniors and, as a result, knows him well. Does it make you excited for Jones' potential knowing that he was already at the top of your draft list before the addition of Housley to the coaching staff?
Kealty: He's been on a radar for a long time. We've been watching him since his first year at the US program. He played two years there and then goes to Portland this year so, we've watched him raise his level and become an elite, dominant player at the younger level. Like I said, a couple years later, to know that you got a player like that, it's a real good feeling for our organization.
303: Could you foresee Brendan Leipsic leading the CHL in scoring when you drafted him in the third round in 2012? Or is his drastic spike in production luck, a product of being on a stacked Portland Winterhawks team or something else?
Kealty: His draft year he was right about a point-per-game, I think. We certainly felt there was another level of production in his game. To say that we could predict he was going to lead the CHL in scoring this year, I'd be lying if I said that. But we certainly felt there was another step in his game. It's just part of the process, you know, he's 17 years old here, he had played two years of junior when we drafted him and that's just the next step of progression, producing more and stepping up to a more prominent role on his team. With the competitiveness that he has and the skill that he has, it doesn't surprise that he took a big jump. They key now is to make sure that he keeps progressing from there.
303: Thank you very much.
Kealty: No problem.
—
PHOTO CREDIT: Nashville Predators Hockey Club (permission pending)