Shea Weber awarded $7.5 million in arbitration ruling…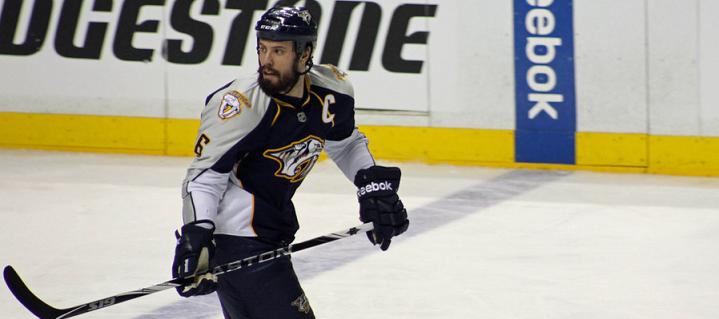 Everyone in-the-know was expecting a deal to be signed in the 11th hour. But, instead of deciding their own future, the Nashville Predators and Shea Weber had it decided for them.
This afternoon, an NHL arbitrator decided that the Preds captain is worth $7.5 million for the 2011-12 season.
While nobody wanted arbitration (or ever thought it would get this point), there were several reasons why both sides couldn't come to a deal on their own. Weber's camp, for example, saw James Wisniewski get a ridiculous deal from the Columbus Blue Jackets on July 1 (6 years, $33 million) and figured "Heck, if a non-Olympian, non-Norris Trophy nominated defenseman is worth that than what do we deserve?" Thus, an arbitrator's ruling would favor them.
Then, just yesterday, Brent Burns was signed to an extension by the San Jose Sharks. The terms? Five years at $28.8 million total, making his salary cap hit $5.76 million.
But perhaps the single-most reason why the two sides couldn't come to a deal was because of Los Angeles Kings defenseman Drew Doughty. He is generally regarded as the most comparable player to Weber in this "free agent class" and he's still in a staring match with the General Manager Dean Lombardi.
Doughty, 21, is four years younger than Weber but plays a similar role on his hockey club. Both are their teams' top defenseman, both are rising stars, both are considered to be future Norris Trophy winners, both quarterback the power play, both are key cogs in the long term success of their franchises, both are Canadian Olympians and both are gold medalists. Weber is obviously worth more than Doughty seeing as how he has 163 more games of NHL experience, he's the team captain, he's been a Norris Trophy finalist and he has a more physical presence on the blueline than the 6'1″, 220 pound Doughty. But that doesn't stop the Preds from using him as a gauge.
The consensus was that, once one guy had a deal in place, the other would follow closely behind. Maybe even within 24 hours.
The clock is now ticking Mr. Doughty.
The 2003 second round pick of the Predators is the leading goal scorer among defenseman in franchise history with 80. He's also just 88 points shy of former captain Kimmo Timonen's points-by-a-defenseman franchise mark of 301. With his projected average of 50 points per year, Weber stands to break that record late in the 2012-13 season.
That is, if he's still in a Preds uniform.
Weber wanting to be in Music City was never a question until he flipped his agent from Don Meehan to Titan Sports Management. After the change, the Sicamous, British Columbia native became almost silent. Then, Predators fans worst fears were realized when the two sides actually had to go through with the schedule arbitration hearing. It was an event nobody saw coming and that's when the long-term future of Weber in a Nashville sweater started to be put into question.
But now that Weber has a deal in place, we can officially start the countdown to the "Have Pekka Rinne, Ryan Suter and Shea Weber (2.0) re-signed yet?" tweets in three….. two….. one…..
—
HEADLINE PHOTO CREDIT: Shauna Legan // special to section303.com (used with permission)
INSET PHOTO CREDIT: Bridget Samuels // special to section303.com (used permission)