Shea Weber named a Norris Trophy finalist…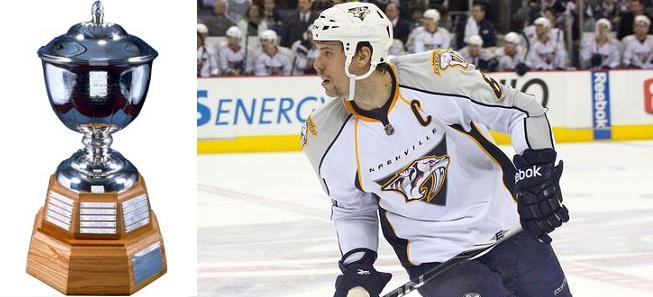 Like his goaltender before him, Nashville Predators captain Shea Weber has been nominated for some NHL hardware.
This morning it was announced that Weber is a Norris Trophy finalist along with Detroit Red Wings legend Nicklas Lidstrom and Boston Bruins tower of power Zdeno Chara. Two names that were surprsingly left off the list were Phoenix's Keith Yandle and Anaheim's Lubomir Visnovsky.
The Norris Trophy is handed out annually to the best "defense player who demonstrates throughout the season the greatest all-round ability in the position."
Weber is a perfect example of that definition. He led his team in scoring until the last two weeks of the season, he dominates the Nashville zone physcially, his leadership skills are unmatched in the Predators dressing room and he's rarely out of position defensively.
The front-runner is probably Lidstrom but, then again, he registered a minus-rating (minus-2) for the first time in his career and there are some in the media who have specifically said that stat alone would keep them from voting for him. And, with the New York-based writers reportedly boycotting their voting responsibilities on behalf of exiled New York Islanders blogger Chris Botta, you have to think Weber has a shot to steal some votes from Boston's Chara. After all, those are the writers that watch Chara on a nightly basis.
So, along with Pekka Rinne (Vezina) and probably Head Coach Barry Trotz (Jack Adams), Shea Weber will be in Las Vegas in late June. Hopefully accepting some new bling.
—
PHOTO CREDIT: Dylan Moody // special to section303.com (used with permission)