Shocker! Preds trade Klein to Rangers for Del Zotto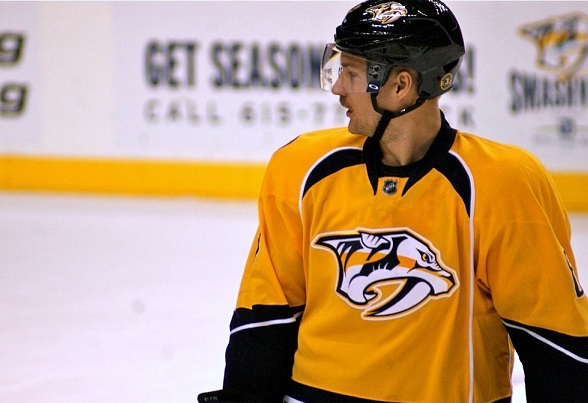 Well, that came out of nowhere, didn't it?
During the noon hour today, news broke (via TSN's Darren Dreger) that the Nashville Predators and New York Rangers had swapped defensemen.
General Manager David Poile and the Preds traded defensive stalwart Kevin Klein to the Rangers in exchange for young and talented Michael Del Zotto. Klein was the second most experienced player on the Nashville blueline. Only he and captain Shea Weber had played more than 100 NHL games coming into the season.
Del Zotto is a pending restricted free agent. Even if he chooses arbitration, the Predators should be looking at a reasonable price tag considering his production is down this season.
The Stouffville, Ontario native can be an offensive force. He was New York's fifth leading scorer when he posted 41 points in 2010-11. In last year's lockout-shortened season, he amassed a respectable 21 points in 46 games. This season, however, he's underachieved with just 11 in 42. He's a left-handed shot that will help balance out the blueline.
Klein, on the other hand, isn't known for piling up numbers on the scoresheet. He's a steady, reliable presence that allowed more offensive players like Seth Jones and, more recently, Ryan Ellis to do what they do best. He provided a sort of safety valve for those guys and that, among other intangibles, will be sorely missed.
On paper, it looks like a great move for the Preds. Weber is locked up through 2025-26, Roman Josi through 2019-20 and with Jones and Del Zotto being RFA's, that's a pretty ridiculous top four for the long term. But can Del Zotto provide enough actual defense to warrant Klein expendable? We already know he can supply some offense so, if he can, this is a win for the Predators. If he can't, it may expose some other players and fans may be cursing this trade for a long time.
Klein was a great locker room guy and, when push came to shove (no pun intended), could drop the mitts with the best of them. Make no mistake, his absence will be felt.
The official press release is below.
***
Nashville, Tenn. – Nashville Predators President of Hockey Operations/General Manager David Poile announced today that the club has acquired defenseman Michael Del Zotto from the New York Rangers in exchange for defenseman Kevin Klein.
"Michael gives us another young, gifted left-handed shooting defenseman with significant offensive upside," Poile said. "We look forward to his presence on our already talented young blue line, further balancing our defensive corps."
Del Zotto, 23 (6/24/90), has 11 points (2g-9a) in 42 games this season for the Rangers while averaging 17:44 of ice time. In 292 career NHL games – all with the Rangers – the 6-0, 195-pound native of Stouffville, Ont., has amassed 121 points (26g-95a), including 37 (9g-28a) in 80 games in 2009-10, being named to the NHL All-Rookie Team. Del Zotto has also appeared in 32 postseason contests over the past two springs, posting 12 points (3g-9a).
The New York Rangers' first choice, 20th overall (first round), in the 2008 Entry Draft, Del Zotto posted 183 points (39g-144a) in 190 Ontario Hockey League games with Oshawa and London from 2006-09. He also represented Canada at the 2010 World Championships
—
PHOTO CREDIT: Sarah Fuqua (used with permission)