Have Preds turned the corner en route to a playoff push?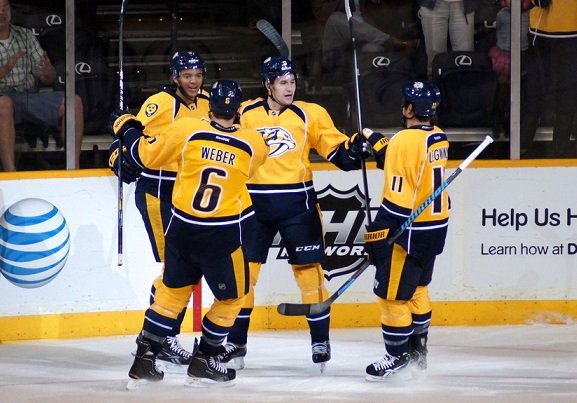 January 5 was game #42 for the Nashville Predators, signifying the start of the last half of the 2013-14 season. They are 3-3-2 so far in the second half but, more than that, they acquired a starting goaltender to fill in until Pekka Rinne is ready to return, played some of their best hockey since 2012 and have even won a game via the shootout.
Have they turned a corner?
"We're playing so much better," Eric Nystrom said with emotion. "It's been a little up and down but we're definitely more in sync and we're moving in the right direction. Time is of the essence now so we need to get better. That's a hard challenge but that's the goal."
On Wednesday afternoon, General Manager David Poile was able to ship fourth line forward Matt Hendricks and his four-year contract to the Edmonton Oilers for starting goalie Devan Dubnyk. He'll get his first start in gold tonight but the acquisition itself signaled the belief that there are still playoff aspirations for this hockey club.
"Dubnyk gives us a chance to be a little bit better," Poile said. "The deal was all about trying to win some hockey games and we got a goalie that's got a lot of experience."
Carter Hutton and Marek Mazanec had a whopping one game of NHL experience between them coming into the season. Hutton was set to back up Rinne and maybe play 20 games all year. A learn-from-the-best role, if you will. Mazanec was slated to back-up Magnus Hellberg in Milwaukee but found himself winning the NHL's Rookie of the Month Award in November after being thrust into the starting role when Hutton struggled.
Shortly after receiving the honor, however, he struggled himself and Hutton was again called upon. The former Rockford IceHog immediately earned Third Star of the Week accolades by the NHL thanks to his 3-0-0 record with a 1.33 goals-against average and .960 save percentage.
But then he struggled again.
"I don't even want to know what it feels like to be Hutton or Maz," defenseman Seth Jones said. "We put a lot of pressure on them right from the start. They've done the best they can and there's no doubt in any of our minds that they give 100 percent every night. Some goals they might want back but, at the same time, they've made so many big saves for us."
The addition of Dubnyk, Edmonton's starter the past three seasons, should allow the team to focus on the game in front of them, not behind them.
"Duby coming in is going to help us," Nystrom said. "He's got a little bit more experience and that's always a good thing. But we've just got to play the way that we can, it doesn't matter who's in net for us. That will give us a chance to win."
The defense corps is young with only Shea Weber and Kevin Klein over the age of 25. And they're largely inexperienced as well seeing as how only two (Weber and Klein again) have more than 140 NHL games under their belts. Having a veteran in the crease should help offset the youth and inexperience as well as give the rest of the team a sense of confidence.
"When one guy makes a good play it usually gives the next guy time to make a good play and that's how it builds," Nystrom said. "Every player in the room, when they play with confidence, it's night and day."
Another major hurdle for this team has been the shootout. In their five previous games that required the skills competition, they didn't win a single one and scored just one goal on 19 shot attempts. But then, on Thursday night in Philadelphia, all that changed. Cullen, Ryan Ellis and Roman Josi all scored, propelling their club to their first shootout victory since February 2 of last season.
"I really think that game against Phili was us playing to the potential," Nystrom said. "We were moving the puck and playing in their zone and grinding. That was the type of hockey that we expected to play this whole year."
The Preds have been without Rinne, a two-time Vezina Trophy finalist, since October 23, they have one of the worst offenses in the West, they had to entrust the crease to a guy who had played in one NHL game and another guy who had never played in North America before this season and, if all that wasn't enough, they couldn't close the deal via the shootout.
All things considered, being just eight points out of a playoff spot isn't too bad.
Yet here we are in the second half of the year and the Predators are hopeful Rinne will return before season's end, they're beginning to find the back of the net, they all of a sudden have a starting-caliber netminder on the roster and they finally won a game via the shootout.
Only time will tell but the corner, indeed, seems turned.
—
PHOTO CREDIT: Sarah Fuqua (used with permission)