Some solutions to NHL Network's boring summer programming…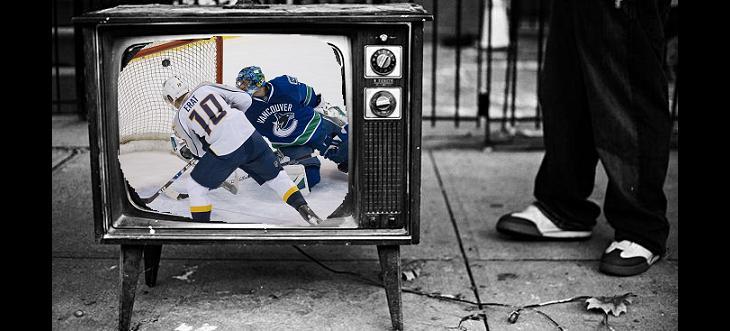 According to DirecTV, Monday, July 25th's NHL Network afternoon and evening lineup was as follows:
3:00pm :: Tampa Bay vs. Pittsburgh, 2011 Stanley Cup Playoffs (Game 6)
5:00pm :: Tampa Bay vs. Pittsburgh, 2011 Stanley Cup Playoffs (Game 7)
7:00pm :: Chicago vs. Vancouver, 2011 Stanley Cup Playoffs (Game 1)
9:00pm :: Chicago vs. Vancouver, 2011 Stanley Cup Playoffs (Game 1)
11:00pm :: Tampa Bay vs. Pittsburgh, 2011 Stanley Cup Playoffs (Game 7)
Needless to say, that gets old.
And I completely get how it's cheaper for them to keep the network on auto-pilot throughout the summer. So replaying games and sprinkling in an episode of Classic Series every once in a while does just that. So how could NHL Network keep auto-pilot on while still making the product entertaining for the viewer? Well I think I have a few ideas.
IDEA #1: HAVE A BLOCK PARTY
We're in the age of the DVR. And, as you know, the DVR allows you to schedule recordings of the shows you want to watch and then play them back when you're ready to watch them. NHL Network could embrace this technology and put all the games of each series, blocked together back-to-back-to-back, in order. Fans in each market could then set their DVR's for the marathon, without having to watch them all at once. All of the first round games could be broadcast first, the second round games second, and so on.
The beauty of this idea is that once NHLN has shown all seven games of the Stanley Cup Final, they maybe play a few Stanley Cup Champion videos from different years (but obviously not the current video because they're still trying to sell that online and in stores) and then start the first round all over again. It's a perfect auto-pilot solution that is also more viewer friendly.
IDEA #2: "DIRECTOR'S COMMENTARY"
You want to keep the current random game replay schedule going? Fine. But give me an incentive to watch them. There's zero suspense. I know what happened. I am fully aware that the Blackhawks came back from an 0-3 deficit in the first round to force a Game 7 with the eventual Western Conference Champion.
So, how do you make it more interesting? How about some director's commentary?
When you pop in a DVD or a blu-ray that you've seen 100 times, you probably like to change things up a little. One way to do that is to run the Director's Commentary feature because, let's face it, you can recite every word already. And it's always interesting to hear James Cameron's thoughts on shooting the harrier scenes with Arnold Schwarzenegger in True Lies and Rob Reiner's observations on watching Tom Cruise and Jack Nicholson go at each other in A Few Good Men. So why couldn't NHL Network do this?
Okay, it may get a little clunky putting an audio track over a play-by-play audio track but there are ways they can pull this off. Take Game 5 of the 2010 Stanley Cup Quarterfinal between the Blackhawks and Nashville Predators for example. Instead of just showing the moment when Martin Erat centers the puck instead of tying it up to preserve the one goal lead in the dying seconds of regulation, why not put a picture-in-picture box with Head Coach Barry Trotz sharing his post-game comments? Heck, why not the post-game comments from Erat himself? Who wouldn't want to hear what those guys thought just moments after that monumental collapse happened?
And it doesn't just have to be just big moments either. They could do it throughout the game. Anytime a head coach or a player comments about something that happened (a bad penalty, a thwarted scoring chance, an injury, etc.) NHL Network could weave it into the replay broadcast, making it more exciting for the viewer. Especially considering most of the people who watched that game live probably didn't see or hear the post-game comments. Or, at the very least, forgot about them.
And the best part of this idea for NHLN themselves? No extra audio is required. This is material they already have access to. Nobody's asking coaches or players to go back and record sound bites during the summer about certain plays or moments. It's already there, in the archive, just waiting to be used.
IDEA #3: "FROM THE PRESS BOX"
Bloggers are the wave of the future. And newspapers are struggling. And both are looking for publicity (a/k/a free advertising). Why not bring them together and ask accredited media members from each team to do an on-camera commentary of the games they covered? How amazing would it be to watch the final moments of Game 4 of the Detroit Red Wings sweep of the Phoenix Coyotes while Carl Putnam of the Coyotes blog Five for Howling talks about what it was like being in that arena thinking "this could be the last time I watch a hockey game in Arizona?" Whether you think Glendale deserves a hockey team of not, that's just great TV right there.
NHLN would use accredited media members because, in general, they don't necessarily have to walk the same line that team-employed broadcasters would. They would use bloggers because they league has already made valiant efforts to embrace social media and the blogging community and this would reinforce those efforts. And they would use newspaper beat writers in the handful of markets that don't credential bloggers. The best part? Everybody they'd ask would accept because it would be free publicity for the hockey world to see.
While it would require the network to send someone into the field to capture these commentaries, it could produce a huge reward in viewership and promotion during a time of the year where ice hockey isn't exactly on people's radar. Let's be honest, name me one media outlet who'd be featured that wouldn't tweet and/or blog about their involvement? Both when it was being conducted and when each game was being shown? You can't. It's a PR homerun in an otherwise dead period for the league.
IDEA #4: EACH TEAM'S TOP FIVE
The NHL has re-broadcast rights to every game. Heck, it's how they fill their morning program schedule during the season. So why can't NHL Network replay the top five games of each of the 30 teams? Now I realize they can't just make the week of August 15-21 "Carolina Hurricanes Week" because just about nobody outside of Raleigh would care. But they could dedicate a day of the week to each team.
Games edited down are usually two hours long. So, in a typical day, they could run five games over the course of 10 hours. And, if they recycle each team's top five, you're looking at 20 hours of programming, giving you just enough time leftover to break up the monotony with a Classic Series or two. Plus, with 30 teams each taking up a day on the calendar, that's a full month worth of non-repeated programming (aside for the daily repeats mentioned above, of course). Auto-pilot galore, NHLN.
They could run promo spots about how "Monday is LA Day! Relive the Kings' top five games of the season all day long right here on NHL Network." And each team would have their own designated day. Teams could then get behind that and have something to push on their websites during the summer. It would also give bloggers something to write about while they look under rocks to produce some content for their sites.
In this solution, not only would they then be involving every NHL team (unlike they do now), they would also be covering so much more ground than just the playoffs, giving them less "repeats" throughout the summer. And, let's face it, less repeats means higher probability of viewing for the average person. And, as we all know, higher probability of viewing means higher probability of advertising. And so on.
CONCLUSION:
Personally I think if they combined idea #'s 1 and 2 they'd have their most entertaining solution. While I'd love to be selfish and suggest #3, it's not about that. It's about trying to help my favorite in-season network become more viable in the off-season.
If the National Hockey League truly wants to be viable year 'round, these are just some of the cost-effective ways they can help themselves do that.
—
DO  YOU HAVE ANY THOUGHTS ON HOW THEY COULD IMPROVE THEIR SUMMER PROGRAMMING? Post it in the comments feature below and let's see if we can turn some heads up in New York.