Nashville inks prospect Craig Smith to entry level deal…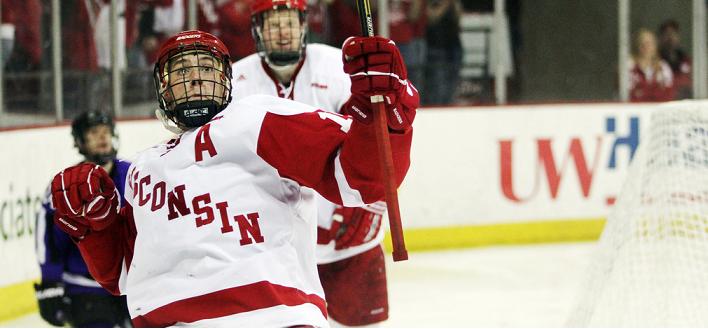 We typically don't like to post press releases of major news but, until I get this written, here it is.
Also, it should be noted that Craig Smith has a shot to crack the NHL lineup this season. Whether that's the opening night roster or not remains to be seen but don't be surprised if you see Smith don a Preds sweater at some point.
You can hear Smith's entire conference call with the Nashville media HERE.
MORE TO COME…
****
NASHVILLE PREDATORS SIGN 2009 DRAFT PICK CRAIG SMITH
-One of USA's three best players at the 2011 World Championships turning pro-
NASHVILLE, Tenn. (July 25, 2011) – Nashville Predators President of Hockey Operations/General Manager David Poile announced today that the club has signed 2009 fourth-round pick (98th overall) Craig Smith to a two-year entry level contract.
Smith, 21 (9/5/89), turns pro after spending the past two seasons at the University of Wisconsin, amassing 76 points (27g-49a) and 159 penalty minutes in 82 games. The Madison, Wis., native ranked ninth in the Western Collegiate Hockey Association in goals (19), tied for 11th in conference scoring (19g-24a-43pts) in 2010-11, in addition to tying for fourth in game-winning goals (5), and sixth in power-play points (8g-15a-23pts). As a freshman in 2009-10, Smith helped the Badgers advance to the 2010 NCAA National Championship Game (on a team that also included current Predator Blake Geoffrion) and was named to the WCHA All-Rookie team after finishing ninth in NCAA freshman scoring (8g-25a-33pts). He also joins defenseman Ryan Suter as UW Badgers in the Predators organization.
The 6-1, 197-pound center made his international tournament debut for the United States this past May as one of two underclassmen named to the country's entry at the 2011 World Championships. Smith went on to be named one of Team USA's three best players of the tournament after leading the team in goals (3) and ranking second in points (6) in seven tournament games.
—
HEADLINE PHOTO CREDIT:  zhaolim // Flickr (used with permission)
INSET PHOTO CREDIT: Sarah Fuqua // special to section303.com (used with permission)