Spitfires to honor Nashville's 2009 first round pick…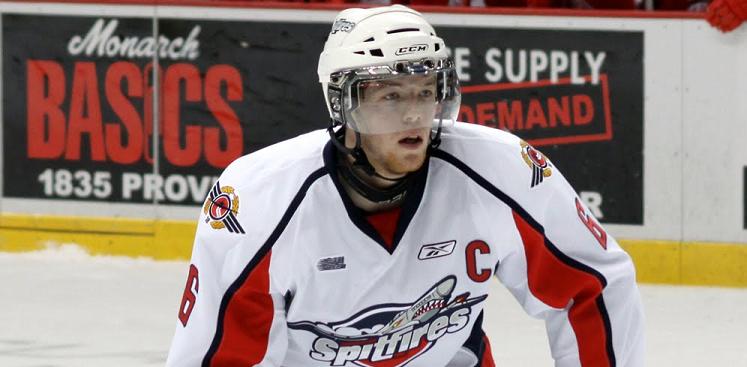 Save the date. November 26, 2010 will be Ryan Ellis night.
Well, in Windsor, Ontario anyway.
Ellis, the Nashville Predators' first round pick in 2009, recently set a new Windsor Spitfires franchise record for all-time points by a defenseman and his club will honor him next Friday night.
The 20-year old blueliner broke the old record of 229 held by current Chicago Blackhawks Head Coach Joel Quenneville. Quenneville donned a Spitfires jersey for three seasons before being drafted in the second round by the Toronto Maple Leafs in the summer of 1978.
Fun fact: The 1978 NHL Draft featured another familiar name to Preds fans. Current Associate Coach Brent Peterson was drafted 12th overall by the Detroit Red Wings that summer.
But back to Ellis…
This is just one more accomplishment on the Freelton, Ontario native's resume. Ellis was named to the 2008 OHL All-Rookie Team, he won the 2008 Bobby Smith Trophy as OHL Scholastic Player of the Year, he's a Max Kaminsky Trophy winner as the OHL's top defenseman, he's a four time gold medalist in international competitions, he's got a silver medal from the 2010 World Junior Championships, he's one of only a handful of players to win back-to-back Memorial Cup Championships, as I said, he's a former first round pick in the NHL and, if all that wasn't enough, he'll probably be named the captain to Canada's 2011 World Junior squad.
And now he's Windsor's all-time leader in points scored by a defenseman.
Ellis broke the record in dramatic fashion, assisting on the game-winning goal on November 10 against the visiting London Knights.
The team will honor their captain before the face-off against the Oshawa Generals.
In case you're wondering, the all-time points record in franchise history for any position is held by former Columbus Blue Jackets center Bill Bowler. Bowler tallied a whopping 467 points wearing a Windsor sweater. Needless to say, Ellis will not be catching him.
With 49 more points, however, he could pass his back-to-back Memorial Cup teammate (and first overall pick in the 2010 NHL Draft) Taylor Hall. Hall finished his OHL career with 280 points.
Passing Hall would put Ellis fifth on the all-time franchise list.
—
PHOTO CREDIT: Tim Cornett, windsorspitfires.com
SPECIAL THANKS: Mad props to Twitter user @PredsFanBen.