GOC SCORES TWO AS PREDS BEAT MONTREAL…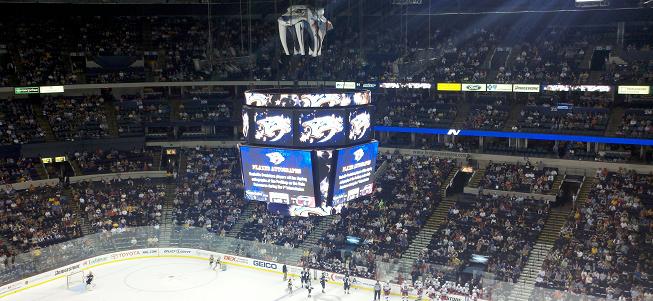 Hey… #allmarceltweetsmustbecapitalized, right?
Just 48 hours after squandering 3-0 and 4-1 leads against one of the Eastern Conference's worst teams, the Nashville Predators visited the Montreal Canadiens and righted the ship.
Well, okay, Marcel Goc righted the ship. BECAUSE THAT'S WHAT GOC DOES!!
(okay, I'll stop. Sorry.)
Goc bagged the first and third goals for the Predators as they defeated the Habs, 3-0, for only the second time ever in their own building. Kevin Klein and former Canadien Francis Bouillon each had two assists.
The 30 save performance – some of which were outstanding – gave Pekka Rinne his second shutout of the season.
In one of the most exciting periods of hockey you'll ever see, the Preds and Habs traded hits, traded scoring chances and even traded huge saves in the first. The teams went to the dressing room scoreless, however.
Early in the second period, Nashville got the scoring started. Goc was the last Predator to score coming into tonight, and he was the first to score here. After receiving a centering pass from Bouillon, Goc spun around and put a backhander past goaltender Carey Price to put the Preds up 1-0.
It was all the offense Nashville would need on this night.
But things didn't look all rosy, however. Nashville had yet another parade to the penalty box in the middle frame, taking three consecutive penalties, even allowing yet another 5-on-3 power play. Luckily, it was not a repeat of Tuesday's effort as the opponent was unable to convert.
Nashville got an insurance marker when Sullivan hit a streaking Cal O'Reilly, who deflected it past Price, putting the Preds up 2-0 with just over 11 minutes remaining.
GOC WAS NOT DONE YET, HOWEVER! He carried the puck over his own blueline, then over the red line, then over the Montreal blueline, before releasing a laser of a wrist shot that whizzed passed Price and in.
Game. Set. Match. GOC HAD SPOKEN!
The Nashville Fighting Goc's will try to start another winning streak when they visit the Carolina Hurricanes on Saturday. Puck drops at 6:00pm Central.
Also, if you'll be watching the game via NHL Center Ice (there's no local TV), look for the SlapShot Radio contingency of fans as they'll be traveling to the game in Raleigh, North Carolina early Saturday morning!
LEFTOVER THOUGHTS:
* Sergei Kostitsyn, who came to Nashville after a laundry list of problems in Montreal, almost had a shorthanded breakaway in the second period. The puck never settled down so he was forced to play it smart.
* "SK74" finished with a penalty and without a single shot on goal.
* The Preds may have lost yet another man to injury. David Legwand got crunched by Roman Hamrlik along the boards and hobbled immediately to the dressing room. Legwand was unable to return and it was called a "lower body injury."
* Bouillon was given a standing ovation after the game. An extremely classy move by the Montreal crowd.
* Patric Hornqvist led all Preds with six shots on goal.
* O'Reilly now has seven points in his last eight games.
* Martin Erat, despite being held pointless, was on the ice for all three Preds goals and thus finished with a plus-3 rating.
* Hornqvist got his skates taken out from under him in the closing minutes and crawled to the bench. O'Reilly, in his post game interview with the TV broadcasters, said "luckily he's fine."
THREE STARS:
1) Pekka Rinne (NSH)
2) MARCEL GOC!!! (NSH)
3) Francis Bouillon (NSH)