Steve Sullivan announces via Twitter that he's now a Penguin…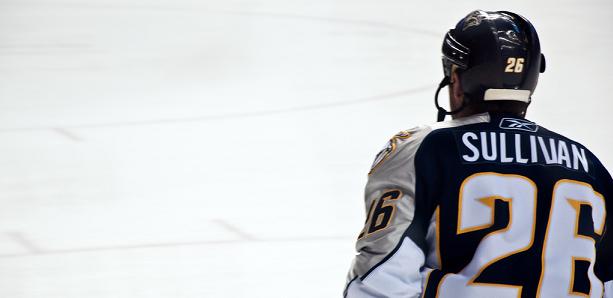 Steve Sullivan will finally get a legitimate chance at winning a Stanley Cup.
The first star that ever donned a Nashville Predators jersey announced via Twitter that he's now a member of the Pittsburgh Penguins. The one-year deal is worth $1.5 million.
The "Timmons Tornado" is going to a team that is in desperate need of wingers. And, since Sullivan's game is best suited when he has talented guys skating with him, he's going into a pretty good situation as well. Let alone the yearly threat of the Penguins winning the Stanley Cup.
Sullivan has never come close to hoisting Lord Stanley. When the New Jersey Devils won the Cup in 1995 he was in their farm system. Then, as a member of the Toronto Maple Leafs, he played in a career high 13 playoff games in 1998-99 but they didn't make the Finals. He then went to a struggling Chicago Blackhawks and then onto Music City.
The Penguins are getting a guy who'll be motivated to win and a guy who's going to flourish with guys like Sidney Crosby and Evgeni Malkin.
All of a sudden, come next May, there will be a lot of Predators fans cheering for the Penguins. Unless the two teams are playing each other, of course.
—
PHOTO CREDIT: Paul Nicholson // special to section303.com (used with permission)