Joel Ward finally gets his pay day, signs with Washington Capitals…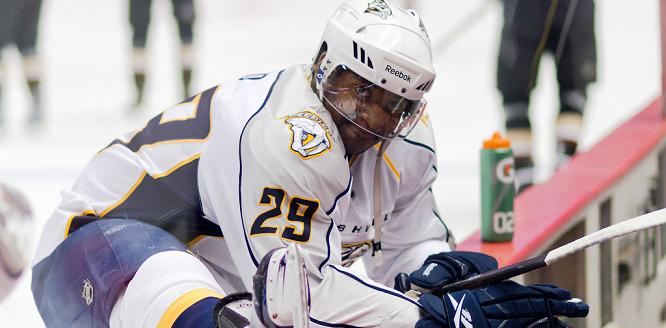 The 2010-11 playoff force for the Nashville Predators has fled to the Washington Capitals.
Joel Ward, who collected 13 points in 12 playoff games this past postseason, becomes the third Preds free agent to sign elsewhere on the opening day of free agency. Furthermore, he becomes the second to sign with a consensus Stanley Cup contender.
Steve Sullivan penned a deal with the Pittsburgh Penguins just minutes ago and Marcel Goc put pen to paper to join the Florida Panthers.
Ward's deal is reportedly a four-year pact worth $3 million a year. Quite obviously, way too much money for what Ward brings to the table. At least in Music City. But, at the same time, you've gotta tip your hat to Ward who took the long path to the NHL.
His career started out in junior where most Canadian kids' career start but, from there, he went to college for a full four years. Then, after graduating from the University of Prince Edward Island, he signed with the Minnesota Wild and played three seasons in their system while getting a cup of coffee (11 games) with their big club. From there, he was signed as a free agent and, within just a few months, was known as Nashville General Manager David Poile latest "diamond in the rough" find.
Now the diamond in the rough has earned himself a big pay day and it couldn't happen to a nicer guy.
—
PHOTO CREDIT: Bridget Samuels // special to section303.com (used with permission)