Hickory Hollow area to become home to two new rinks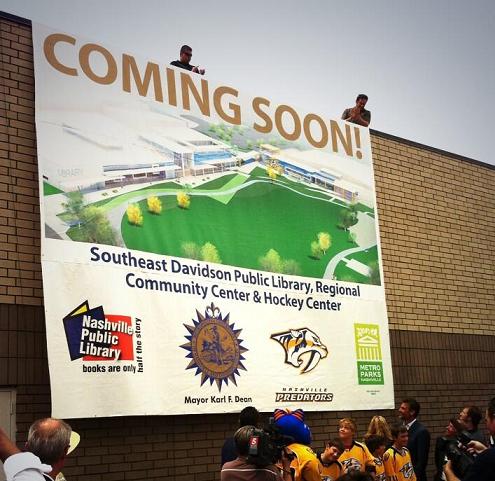 As first reported by The Tennessean on Saturday and then confirmed at a public event this morning, the formerly named Hickory Hollow Mall will soon be home to two sheets of ice.
The Global Mall at the Crossings (the new name of the mall) will house two ice rinks and become just the third ice skating facility in Middle Tennessee. Despite 16 high school hockey teams in Middle Tennessee, the area has only had two facilities for them to play on: A-Game Sportsplex in Franklin and Centennial Sportsplex located downtown near Vanderbilt and The Parthenon. Four sheets of ice divided by 16 schools, the Jr. Preds program, figure skating lessons, public skates and private parties doesn't leave a whole lot of flexibility to fit in a decent sized season. An effort to remedy that happened today.
Mayor Karl Dean was also on hand for the big announcement.
"They should really be commended for all they do," he said of the Predators. "Offering free beginner hockey programs, sponsoring the Jr. Preds teams for eight to 18 year olds and all the other hockey opportunities they make available to the community."
The two-story, $14 million, 86,000 square foot facility will be used for community and school purposes as well as junior and adult leagues.
A library and a rec center are also planned for the space.
—
MAIN PHOTO CREDIT: The Nashville Predators official Twitter
INSET PHOTO CREDIT: Marcus Washington // News Channel 5