Coach Trotz calls upon 303 to keep the boo's coming for Suter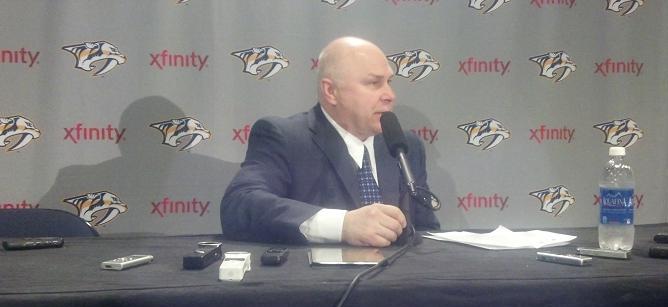 Nashville fans have serious animosity toward former Predators defenseman Ryan Suter. And rightfully so as the Madison, Wisconsin, native told the team that, if they did certain things, he would re-sign in Music City when he turned an unrestricted free agent on July 1, 2012. General Manager David Poile seemingly did his part — and ownership stepped up and did theirs — but the All-Star blueliner didn't want to do his.
On July 4, he signed with the Minnesota Wild for 13 years at $98 million. The Preds were never given the chance to match because Suter cited the one reason that was non-negotiable: "family reasons."
When he returned to Bridgestone Arena for the first time, boo's rained down from the 17,113 in attendance every time Suter touched the puck. His former coach, Barry Trotz, clearly encouraged the fans to keep that tradition going.
"I hope that goes on for the next decade," Trotz told The First Quarter on 102.5 The Game last week. "I'll tell you, that throws people off. I know Chris Chelios used to hate coming here. That's perfect. When you hate coming to a building because the fans are having an effect, that's awesome."
Then, this morning, Trotz met with the media and stoked the fire.
Trotz on Suter: Ryan is a big part of our history, but "I don't think Section 303 is gonna let him off the hook. I read the blogs too."

— Willy Daunic (@WillyD1025) October 8, 2013
As a fan, you can't get on the ice and score a goal, you can't lace up the skates and dive in front of a shot and you can't pull on the Predators gold and make a glove save. What you can do, however, is bring the volume.
So break out the hot tea and honey. Your coach has called upon you.
.

—
PHOTO CREDIT: Jeremy K. Gover // section303.com