Swedes top Hockey Prospectus' list of Preds prospects…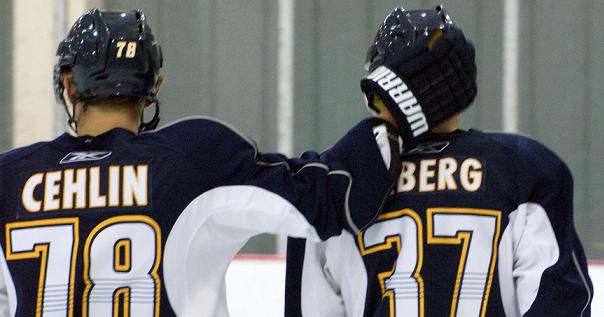 Hockey Prospectus is a highly respected online scouting service. Every summer, they post their rankings of the top 10 prospects for each of the 30 NHL clubs.
Last week, they released their rundown of the Nashville Predators.
The names you'd expect to see are included. 2010 first rounder Austin Watson, Minnesota Golden Gophers captain Zack Budish and former OHL 40-goal scorer Taylor Beck all made the top 10. Surprisingly, however, the top slot went to a guy who's only been in the Predators system for less than 90 days.
Nashville's second round pick in 2012, Pontus Aberg, was ranked #1 while his countryman Mattias Ekholm followed him at #2.
Sticking with the Swedish theme for a moment, speedy winger Patrick Cehlin came in at #9.
Ekholm, as you may recall, skated in two games with the Predators last season and looked absolutely terrible in doing so. He was returned to his Swedish club (Brynas IF), per his contractual agreement, and went on to win the Borje Salming Award (top defenseman) and a Swedish Elite League Championship.
Recently, General Manager David Poile reflected on Ekholm's cup of tea in Music City.
"I think, management-wise, we really made a mistake in our treatment of him last year," Poile said. "We negotiated, signed and agreed that he was going back to Europe (if he didn't make the NHL roster). But, in our stubbornness, we tried to force him onto our team against almost every principle that I 've been brought up with. It didn't work."
Aberg, on the other hand, is a new name to most Predators fans. He was ranked highly by most scouting services going into this past June's draft but fell to Nashville at 37th overall. The Stockholm, Sweden native was ranked 22nd in The Hockey News' draft magazine, 28th by McKeen's Hockey and was even 15th among all skaters by International Scouting. Furthermore, Corey Pronman of Hockey Prospectus had him as his ninth best prospect in the entire draft.
Pretty good value for a second round pick, eh?
Without going through the entire list (you should do that here, by the way), there are a few other head-scratching notes. Goaltending prospect Magnus Hellberg is not included in the top 10, or even in "the next five," they have the Predators with just the 22nd best (read: eighth worst) system in the entire NHL, and Ekholm is the lone rearguard in the top 10. For a team that prides itself on defense and for a fanbase who gets nauseated at the mere notion of drafting a blueliner, it's a little shocking to see nine forwards in the top 10.
Aberg and former first round pick Chet Pickard just started the 2012-13 Allsvenskan season with Djurgarden while Ekholm and Cehlin will start the campaign with the Milwaukee Admirals.
You can check out Hockey Prospectus' ranking of Nashville's prospects HERE.
—
PHOTO CREDIT: Sarah Fuqua // Flickr (used with permission)